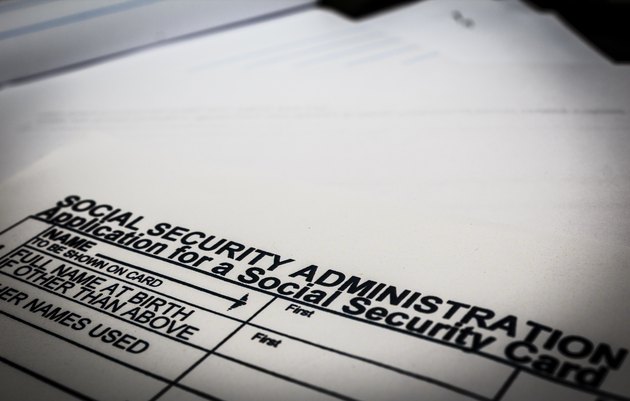 The nine-digit Social Security number is one of the most important pieces of identification you have. The Social Security Administration, or SSA, assigns the number and intends that you keep it throughout your life. It will assign a new number, but only for a few reasons. The agency requires an application and documentation to consider the request.
Requesting a New Number
Apply for a new number in person at an SSA office by submitting the standard application for a Social Security number and attaching the required documentation for a new number request. Provide a written statement that explains why you need a new number. Include the originals of the documents the SSA requires to apply for a Social Security number – proof of identity, date of birth and citizenship or immigration status. If you have undergone a legal name change, provide legal documents that prove the change is legitimate.
Domestic Violence
The SSA requires additional third-party documentation based on the reason for your request. For example, the agency lets victims of domestic violence, harassment and other life-threatening situations apply for a new Social Security number. Third-party verification of your need for a new number should come from police officers, health care professionals and court officials who describe in detail the violence or harassment and the degree to which you are in danger. Include third-party support letters or records from mental health counselors, domestic violence shelters, family and friends.
Identify Theft
You also can request a new Social Security number if you are a victim of identity theft and, after every effort to resolve the problem, the use of your number continues. Provide third-party documentation of the theft and use of your social Security number and of your efforts to stop the crime. This might include police reports, credit reports and evidence that the use of your Social Security number continues to cause problems. A new number might resolve problems caused by the identity theft, but it also means you will have to reestablish your credit.
Number Conflicts
The SSA considers requests for a new Social Security number if the actual number assigned causes problems. For example, an error when assigning a number might result in the same number being assigned to more than one person. In some situations, sequential numbers assigned to members of the same family can cause problems. Provide a detailed history of problems the number has caused. The SSA representative will explain which other documentation is acceptable. Individuals who object to an assigned Social Security number on the basis of cultural practices or religious beliefs may also apply for a new number. In this case, provide the SSA with written documentation from the religious organization confirming your membership and describing the reason for the objection.
Considerations
Once you have a new number, stop using the old number. Even though you no longer use the old number, some businesses and government agencies will continue to maintain records under your original Social Security number. The SSA does not delete your old number after it assigns a new one. The agency cross-references the two numbers to keep track of your Social Security earnings.