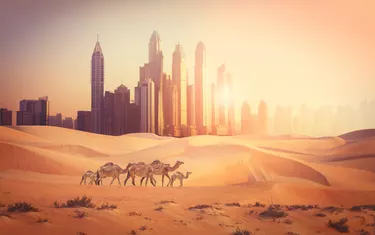 As the capital city of the United Arab Emirates (UAE), Dubai is one of the most popular business and tourist destinations on the planet. It is beautiful, culturally diverse and prosperous with a fast-growing economy; some economists and financial advisors would argue that there has never been a better time to invest in Dubai. The experts at Damac Properties claim that Dubai offers the best quality of living and infrastructure in the Middle East, and countless international (and local) investors feel that Dubai offers a golden opportunity for them to expand their portfolios.
Expatica writers explain that there are three different stock exchanges in this incredible city: the Dubai Financial Market (DFM), the Abu Dhabi Securities Exchange (ADX) and NASDAQ Dubai. To get started with DFM or ADX, you have to get an investor number (NIN) from their Investor Services Desk in Dubai's World Trade Centre or online. A broker or fund manager can advise you on the Dubai Stock Exchange-listed companies and help you pick out which Dubai stocks to buy.
The DFM Investors webpage posts that DFM and NASDAQ Dubai are both open to all investors, and individuals and institutions can apply for a DFM NIN through the website or app. After creating a new account and logging in, just click on the eFORMS tab, choose the form and complete it. They require some documents (such as a copy of your passport) that have to be included and once you attach them, submit those along with your form. Businesses and institutions must provide additional documentation to open those kinds of accounts. Once approved, DFM will email you with a status update.
Investor Numbers With ADX
You will also need to apply for an investor number with ADX and choose a broker as well before any transactions can be made. If you are in the UAE, you can stop by one of their branches, otherwise use the Sahmi digital platform or an accredited brokerage firm to get started.
If you are a resident of the UAE, you will need your Emirates ID card; foreigners must have a passport and ID card. It may be helpful to consult with a financial advisor who specializes in these sorts of trade before you get started if you need help.
What Dubai Stocks to Buy?
Once you have a valid NIN, you can open up a trading account, complete more forms and appoint a licensed broker. These individuals provide different products and services, so it is important to do some research before making a choice. The DFM Investors list of licensed brokerage firms shows businesses that work with both DFM and NASDAQ Dubai, as well as rankings and ratings.
After you appoint a broker, the trading can begin within the parameters that the broker provides. This can be done online or on the phone, and they will advise you as well. Activities can be monitored on their website; you can register for real-time data access if you like.
Investing.com shows a list of the Dubai Stock Exchange-listed companies; there are considerably fewer United Arab Emirates Stocks when you compare it to the New York Stock Exchange. Still, if you invest wisely you could do well. And as an added bonus, the UAE does not have personal income tax; this means that you will not pay capital gains taxes there when you unload securities, unless you are doing it through a business.