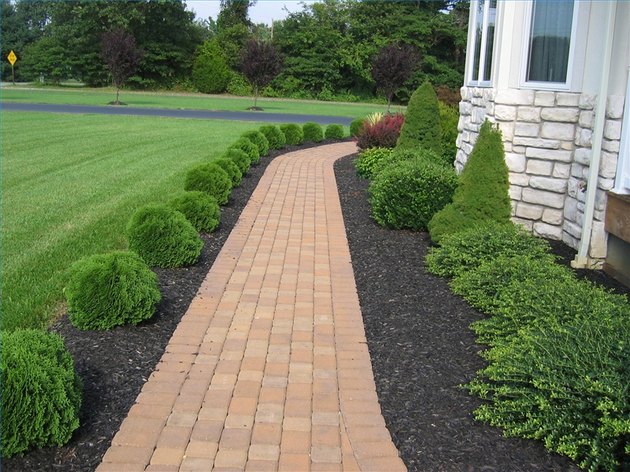 To a buyer, a vacant house for sale often signals opportunity. The home will likely be available immediately and it may be reasonably priced because the owners have already moved. Buyers will make assumptions about a vacant house based on its curb appeal and condition, how long it has been on the market and whether the owners are still local or have moved cross-country. These factors combine to give the buyer a sense of the property's value. To sell a vacant house for market value, it is vital that the homeowner effectively stage the home to enhance the buyer's perception of its worth.
Step 1
Set the property up for maximum curb appeal. Pay attention to the four most visible aspects of your house: the front door, the siding, the roof and the landscaping. Replace, repair, paint or renovate any of these features that have fallen into disrepair. Your investment will pay off handsomely.
Step 2
Make sure the landscaping is meticulously maintained while the house is on the market. Nothing spells "bargain" like an unkempt yard. If you have relocated beyond driving distance of your vacant house, hire a landscaping service to regularly groom your property or have your realtor retain a lawn company to do the job.
Step 3
Discontinue mail and newspaper delivery. Have any junk mail collected by a neighbor or your realtor. Set timers to have a couple of lights turn on at dusk, especially at the front door. You want to stage a vacant house so it appears well cared for and lived in.
Step 4
Focus on interior details. When you stage a vacant house to sell, you want the buyer to sense that your are still invested in the property--that the house is anything but a bargain. Fix any holes in the walls; clean the carpets; shine the fixtures and windows; vacuum the basement and sweep the garage. Make sure there is no trash in the house. Ask a neighbor or your realtor to regularly air out the home.
Step 5
Place a few elements of décor in strategic spots around the house. For example, arrange fresh flowers in the kitchen and crisp towels in the bathrooms. Leave custom window treatments in place if they are stylish and in good condition. In a large house, it is worth renting a few pieces of furniture, such as a dining set, to warm up the space. Make sure all permanent light fixtures work properly and have fresh light bulbs installed. Routinely test your doorbell and garage door openers.
Tip
Place a wreath on the front door of your vacant house to make it seem lived in.