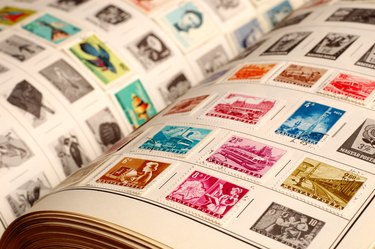 S&H Green Stamps were part of a customer loyalty program that enjoyed popularity from the 1930s through the 1970s. Customers received stamps based on the dollar amount of their purchases. They could then redeem stamps for merchandise such as household goods, toys and even clothing. Although S&H Green Stamps can no longer be redeemed for these items, they have some value among collectors of mid-century memorabilia.
Michigan businessmen Thomas Sperry and Shelley Hutchinson opened a department store in 1896 and soon after created trading stamps to entice customers to shop at their store rather than the competition's. The stamps were green, the color of money and prosperity, and were dubbed S&H Green Stamps.
Although the two business partners had a bitter split during the 1930s, their brainchild flourished. Other businesses launched trading stamps, including Gold Bond stamps and Plaid stamps, but none reached the popularity of S&H Green Stamps. According to the Sapulpa (OK) Times, 80 percent of American households collected Green Stamps at their peak. In the 1960s and 1970s, S&H sold three times more stamps than the U.S. Postal Service.
Redeeming S&H Green Stamps
S&H Green Stamps were distributed in denominations of one, 10 and 50. The S&H Green Stamps company sold the stamps to retailers to dispense to their customers. A customer needed 1,200 stamps to fill a book.
Customer Loyalty Programs Today
Technology has made customer loyalty programs easier, both for the companies that offer them and the customers that use them. Instead of giving customers a physical item, like trading stamps, companies award points for each transaction. Credit card companies, online retailers, airlines, restaurants and supermarkets are among the industries that use computerized systems to track your purchases. Points translate to dollar amounts that can be used toward future purchases, freebies and, in some cases, cash.
From Green Stamps to Green Points
Technology caught up with S&H Green Stamps, too. By the 1980s, the company realized that customers didn't want to spend time pasting stamps in books. Eventually, a holding company purchased the rights to Green Stamps and by the year 2000, according to AZ Central, offered gift cards in exchange for what they named "Greenpoints." When Clay Thompson wrote his article on Greenpoints in 2015, it was still possible to redeem Greenpoints. However, that has changed.
A brief statement on the S&H Greenpoints website lets customers know that, effective October 4, 2020, S&H Green Stamps were no longer valid. As of that date, the company would not accept them or redeem them for any amount. The NY-based chain PSK Supermarkets, which operates Food Town stores, bought the rights to Greenpoints and changed the name to MyFreshPoints. Local customers are able to exchange their Greenpoints for FreshPoints and can continue to earn 10 points for every dollar spent at the store. FreshPoints are redeemable for grocery items and expire after one year. For Greenpoints customers outside the region serviced by Food Town stores, the Greenpoints became effectively worthless.
S&H Green Stamps as Collectibles
You can often find trading stamps, stamp books, merchandise catalogs, S&H signage and even stamp dispensers at places that sell collectibles and vintage items. Look for S&H memorabilia at flea markets, tag sales, antique shops and online auction sites like eBay. Prices are modest for most items since they are not particularly rare. If you have S&H Green Stamps collectibles to sell, check online to determine current prices so that you can market your items competitively.