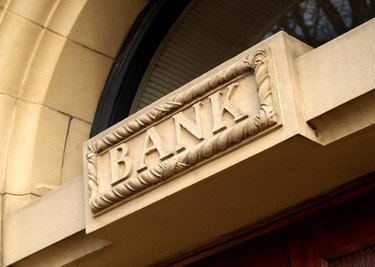 According to the World Gold Council, bullion banks are investment banks that function as wholesale suppliers dealing in large quantities of gold. All bullion banks are members of the London Bullion Market Association.
Function
Bullion banks differ from depositories in that the banks handle transactions in gold and the depositories store and protect the actual bullion. For example, the Federal Reserve Bank of New York stores and protects gold for a number of central banks and foreign countries. The U.S. Bullion Depository in Fort Knox, Kentucky houses most of the gold bullion belonging to the United States.
Considerations
When a central bank loans or sells gold, the physical location of the bullion does not have to change. The bullion banks (clearing banks) conduct the financial transactions and ownership transfer takes place in the records of the depository.
Identification
Blanchard and Company, a large retailer in rare coins, names the six "clearing banks" that handle gold bullion transactions as: "Barclays Bank PLC, ScotiaMocatta, Deutsche Bank AG, HSBC Bank, JPMorgan Chase Bank and UBS AG."