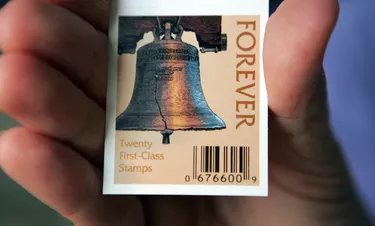 Businessman Arnold Glasow was famous for noting that "nothing lasts forever…" Who knows if he would have changed his mind had he lived until 2007 – the year the United States Postal Service unveiled its first-class forever stamp. Glasow may have been stunned to learn that the forever stamp essentially locks in the cost to mail a first-class letter – no matter how much the price of a stamp increases from the day it was purchased. Just look at postal history: It's happened 11 times since 2007, and it's about to happen again in 2021. Who could bemoan postal troubles after learning about the forever stamp, for even Glasow said, "Nothing lasts forever – not even your troubles."
Tip
A forever stamp is designed to always be worth the current value of a first-class stamp. As of late June 2021, the original forever stamp is worth 55 cents.
Recall the First Forever Stamp
Stamp collectors may like to think that the first forever stamp image remains locked in the minds of American consumers. Many of them were skeptical – pleasantly surprised, but skeptical just the same – as the post office unveiled the stamp, which featured the cracked liberty bell. Just as the bell is a symbol of America's independence from Great Britain, the forever stamp represented consumers' newfound independence from regularly escalating first-class postal rates. To some consumers, the premise of the stamp sounded too good to be true: Purchase a first-class forever stamp at current rates, the postal service said, and use it to mail a one-ounce letter:
No matter when the stamp is purchased.
No matter when the stamp is used.
No matter how much stamp prices increase in the future.
The original forever stamp is worth more today than it was on the day of the postal service announcement on April 12, 2007. Then, a first-class stamp cost 41 cents. Since a forever stamp is designed to always be worth one first-class stamp, that stamp is now worth 55 cents, which is what a first-class stamp costs as of June 2021.
First-Class Stamp Worth Keeps Rising
The liberty bell may be cracked, but the idea to encourage consumers to continue using the U.S. Postal Service wasn't – not when they were already starting to send correspondence via email instead of by first-class letter or postcard. First-class postage rates have increased steadily since 2007, with increases taking effect in 2008, 2009, 2012, 2013, 2014, 2016, 2017, 2018, 2019 and 2020.
In 2018, a forever stamp sold for 50 cents. So if you happen to find a book of 2018 stamps stuffed in the folds of your wallet, you could use these stamps to mail first-class letters today – without adding an additional 5 cents in postage to the envelope.
And consider the forward-thinking consumer who bought thousands of forever stamps in 2007. Since the stamps obviously never expire, he could still be using those stamps today on first-class envelopes – saving 14 cents on each envelope he mails. If you're kicking yourself for not getting in on the savings, consider doing so before August 29, 2021. This is when first-class postage rates are set to increase to 58 cents, according to Stamps.com.
First-Class Forever Stamps Depict More Variety
To be sure, forever stamps reduced the need for consumers to purchase 1- or 2-cent stamps to cover the difference between the value of the stamps they had on hand and the cost of stamps after a U.S. Postal Service increase took effect. (It also spared the service the hassle and expense of returning mail for insufficient postage.) But certain realities of sending letters through the mail remain unchanged.
For one, the postal service still returns a good deal of mail for lack of postage and so encourages consumers to purchase a scale, especially if they're heavily reliant on the postal service. A scale may sound like an indulgence until you consider that affixing two forever stamps to a 2-ounce letter costs $1.10 while that additional 1 ounce costs only 20 cents, for a total spend of only 75 cents.
Forever stamps can be used on international mail, but these prices are higher than domestic mail prices. So a scale would come in handy for these pieces, too. The liberty bell is gone from today's forever stamps but has been replaced with graphic choices that include scenes of nature, Stars Wars figures, a cup of coffee and even a "mystery message" that contains the words "more than meets the eye" – just like the stamp itself.