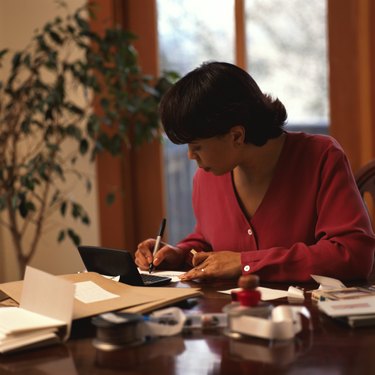 According to the Nolo law website, about 80 percent of all credit reports contain inaccuracies and errors. In addition, about 25 percent of these are severe enough to affect a credit decision. These statistics underscore the importance of reviewing your Experian, Equifax and TransUnion credit reports at least once each year and, when necessary, to file a separate notice of dispute with each bureau aimed at correcting or deleting inaccuracies and errors. A full understanding of the dispute process increases the chances for a successful outcome.
FCRA Protections
The Fair Credit Reporting Act works to ensure that your credit report is accurate. For example, Section 611 says that credit bureaus must investigate disputed items free of charge and report back within 30 days after receiving a notice of dispute. Section 623 says that credit grantors must update and correct inaccurate information uncovered in a dispute investigation. An amendment to the Act says that upon request, each credit bureau must provide you with a copy of your credit report at no charge. However, to get a free report, you must request each report separately, either online at annualcreditreport.com, by calling 1-877-322-8228 or by mailing in a request form.
Things to Look For
Review every section of each credit report. In the personal information section, verify that your contact information, social security number and employment information are correct. In the public records section, look to see whether it contains negative information more than seven years old -- or for a bankruptcy, more than 10 years old. In the credit accounts section, look for entries like delinquencies or other adverse information more than seven years old, a late payment notation when you've paid on time, a discharged bankruptcy debt still showing as owing and closed accounts incorrectly listed as open. Gather evidence, such as statements, receipts or bankruptcy discharge documents, that you will need as supporting documentation.
Notice of Dispute
Although all three credit bureaus accept, and even encourage you to submit a notice of dispute online, the FTC recommends that you submit dispute notices in writing via certified mail with a return receipt requested. Send a letter to each credit bureau and information provider using the address providing on the company's website or billing statement. To assist you, the FTC has templates available for both types of letters. In each letter, identify the error or errors, explain why you dispute the information, supply the correct information and request that each one be deleted or corrected. Include a copy of your report highlighting the item or items in question, along with copies of supporting documentation.
What Happens Next
Both the credit bureau and information provider must investigate and correct any inaccurate information within 30 to 45 days. You'll receive a written report detailing the results of the investigation. If the dispute results in any changes to your credit report, you'll also receive a free updated credit report. However, if an investigation doesn't resolve your dispute, you can include a statement of explanation in your credit file.