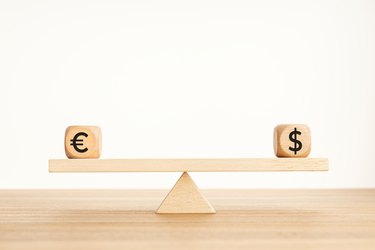 For the first time in two decades, the dollar-to-euro exchange rate has reached parity: one U.S. dollar is equal in value to one euro. The euro-dollar exchange rate has not benefited the U.S. traveler for 20 years but has been trending toward breaking even over the past year. American travelers in Europe will find that a strong dollar goes further – at least for now.
While inflation in the U.S. reached ​9.1 percent​ in June, the European economy has suffered its own problems. The pandemic supply chain hit hard around the world, impacting supply, demand and pricing. Then, the Russian invasion of Ukraine rocked Europe's financial stability, causing gas supply shortages and endangering global food security.
The European Union is dealing with ​8.6 percent​ inflation, ​42 percent​ higher energy prices and fears of a recession. Economists and strategists at Bloomberg warned of the sinking euro back in March. Since then, the value of the euro has dropped nearly ​10 percent,​ reaching parity with the greenback.
Back in the U.S., as the Federal Reserve (Fed) aggressively raised interest rates to counteract inflation, many investors moved toward dollar-based investments rather than foreign currencies. And the dollar got stronger. Similarly, the European Central Bank (ECB) is considering a hike in interest rates to combat inflation in Europe, which may help the euro gain strength.
While none of this is good news for the European Union or the global economy, international travelers to Europe from the U.S. may discover more short-term spending power when converting USD to EUR.
Parity and International Travel Expenses
Because of the global energy crisis, you shouldn't expect to see cost savings in airfare. In the past year, the price of airline tickets has increased sharply, according to the Consumer Price Index (CPI) for airline fares from the U.S. Bureau of Labor Statistics.
The euro-dollar exchange rate will benefit travelers to Italy, Greece, Spain or any of the 19 countries in the Eurozone in the cost of goods and services purchased abroad. Americans can buy more euros with a U.S. dollar today than they could have in any of the past 20 years.
But keep in mind that while the dollar may be worth more, the shrinking euro is related to higher prices across all of Europe. You'll get more euros for your greenback. Still, depending on where you travel, you'll spend more of those euros on food, beverages and other goods due to inflation, according to recent consumer data from the European Commission.
So, while the euro and dollar may have reached parity, thanks to inflation on both sides, that doesn't mean there is purchasing power parity between the U.S. and Europe. In addition to exchange rate, pricing, real income and tax rates affect purchasing power on both sides of the equation.
Americans can buy more euros with a U.S. dollar today than they could have in any of the past 20 years.
Getting the Most From USD Abroad
The strong dollar is still an advantage when traveling to Europe, and like most everything since the pandemic hit, it can be complicated and unpredictable. So, it would be best to maximize this strength while it's within reach.
Check with your bank or credit union to determine how to get the most out of the exchange. Ask about the exchange rate and any fees associated with the conversion. In most cases, you get more for your U.S. dollar if you wait to withdraw cash from a partner bank or ATM abroad.
Travel experts advise paying in foreign currency rather than USD when buying European goods and services and charging to a credit card that doesn't charge foreign fees. Check with your credit card company before traveling to ensure you won't encounter any hidden charges.
If you book a hotel, services or tours, use your credit card to book in advance to get the most out of euro parity before the situation changes.