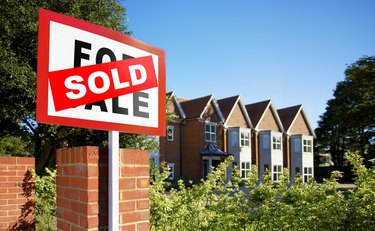 The American housing market is facing a supply shortage, and corporate real estate investors are part of the cause. Here's why.
The American Housing Market Status
The COVID-19 pandemic has led more people to work remotely and increased the demand for housing in the suburbs, reflecting a change in lifestyles but driving prices up.
A shortage in the supply of homes has driven prices even higher with many sellers getting multiple bids on their properties, often several thousand dollars above the listed price. According to the National Association of Realtors, the median sales price nationwide for existing homes has risen ​16.9 percent​ in 2021 over last year to ​$346,900​, an increase of ​$50,200​.
Housing Market Impacts Renters
Cities that have campaigned to attract companies to relocate to their areas have driven up the housing demand for their employees. These efforts have led corporate investors to increase the supply of rental houses, but at higher prices. According to CoreLogic, a data research firm, rents for single-family homes are up ​12.6 percent​ year over year. Many people can't afford to buy homes and are being forced into rental properties with corporate landlords.
Local residents in states like Texas and Alaska, which have no personal income tax, are being driven out of the market. Newly arriving employees are likely receiving higher wages and can afford to pay the higher rents and home prices.
The increasing home prices mean that prospective homebuyers have to put up more cash as a down payment and will have a higher mortgage payment, for which they probably don't qualify. In the meantime, they have to pay more in rent, which takes away the cash that they could be saving to make these larger down payments.
Corporate Investors in Real Estate
According to a report from Redfin, corporate investors bought ​18.4 percent​ of all home sales in the fourth quarter of 2021. Corporate investors bought over ​80,000​ homes with a total value of ​$50 billion.​
America is facing a shortage of homes for sale that is driving up prices and attracting corporate real estate investors to compete with hopeful homeowners.
Mid-priced homes made up ​32 percent​ of total investor-purchased homes sold, while low-priced homes comprised ​37 percent​ of the purchases. High-priced homes made up the remaining ​31 percent.​
Corporate investors focus on the Sunbelt cities because of the lower prices. They're not interested and can't compete in expensive northern cities like Boston, where the median price for a single-family home is ​$755,000.​
Corporate investors purchased substantial numbers of homes in Atlanta, Charlotte and Jacksonville. Corporate investors bought ​32.7 percent​ of total homes sold in Atlanta in the fourth quarter of 2021. In Charlotte, investors purchased ​32.1 percent​ and in Jacksonville they purchased ​29.8 percent.​
Over three-quarters of investors' home purchases were made in cash. Sellers are attracted to offers from corporate buyers because they can close in a few days or just a few weeks, they avoid the uncertainty of the buyer not getting approved for a mortgage and they get their money fast and avoid having to pay two mortgages at the same time if they're buying another house.
First-Time Homebuyers Pushed Out
It's tough for aspiring homeowners to compete with all-cash offers from corporate investors. Rising mortgage rates also don't affect corporate investors because they don't use mortgages but instead finance their purchases with investors' capital and debt at lower interest rates.
And it's not only the big Wall Street firms buying rental properties, but small investors as well. Small real estate investors, meaning those with fewer than nine properties, made up ​43 percent​ of total investor purchases. Real estate investors are also taking advantage of the steep rise in home prices to buy properties at lower prices and flip them at a higher price.
Blackstone, the largest private equity firm in the world, backs Invitation Homes, which invests in single-family homes in the suburbs where rents have been rising the most. The demand for rental homes is so strong that Invitation Homes has formed a strategic relationship with Pulte Group, a large home builder, to construct new homes that Invitation Homes will purchase and rent.