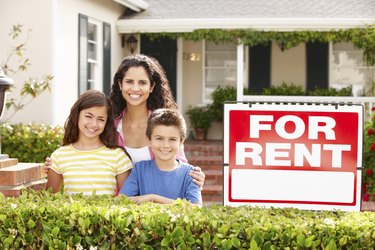 Calculating the cost of renting a house can be confusing, as the monthly rent often doesn't cover all the tenant's obligations. Utility and maintenance costs can be significant, making a rental house less affordable than apartments in the same rent range. To avoid financial problems and landlord conflicts, prospective tenants should confirm all financial responsibilities and costs before leasing a house.
Security Deposit and Application Fees
Most landlords require potential tenants to complete an application and screening process. You will likely have to pay an application fee that covers the cost of processing your application and running a background check. If approved, your landlord will probably ask for a security deposit which is usually equal to one to two months' rent depending on the state in which you live.
Rent Costs
The monthly rent for a house varies according to the size of the house, its location and its amenities. When reviewing rental ads, don't get too caught up in statements about the number of bedrooms in a house, as you have no idea how large those rooms are. Contact the landlord and find out the dimensions of the rooms. In addition, ask about storage space, whether the home as a basement, a yard or even a garage. Knowing the size of the home, as well as the property it sits on, can help you decide whether the rent quote is a good deal.
Cost of Utilities
While it's not unusual for landlords to cover some or even most utilities in an apartment, houses are a different matter. You may be required to cover the cost of all utilities, including heat, water, and even trash pickup. Clarify your responsibility for paying utilities with the landlord. Also, before signing a lease, ask the landlord for an estimated utility cost for the house.
Cost of House and Property Maintenance
Some landlords expect rental house tenants to take responsibility for lawn maintenance and snow shoveling. This is another area for negotiation with your landlord. If you are responsible for property maintenance, you may have to purchase equipment such as a lawnmower, salt and shovels. Alternately, you can hire someone to handle the landscaping and snow shoveling for you. Either way, you are responsible for the costs of keeping the property in good shape.
Consider Amenities when Determining Rent Cost
Houses sometimes have amenities that offset the cost of rent. For example, a rental house may have a washer and dryer or a washer and dryer hookup. While you'll have to pay for the cost of the water and electricity to run the machines, you may still save time and money over using coin operated machines and driving to a laundromat. A house may also have more storage space in the form of a basement, crawl space or attic, eliminating the need to pay for off-site storage.