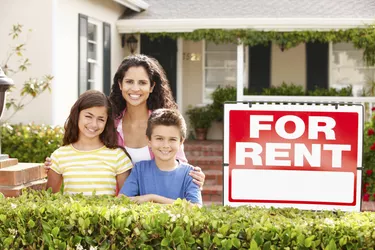 With today's skyrocketing home prices, it can make better financial sense to rent a home instead. A recent study conducted by Lending Tree found the average cost to rent a house can be a lot less than buying in the largest cities in the country. The expenses when renting a home can be lower as well. Of course, there are pros and cons with buying vs. renting – owning a home is an investment and there are tax benefits. You do not need a large down payment to rent though, plus you are not as tied down to a property.
Average Cost to Rent a Home
Home rental prices fluctuate with the economy, and though they are higher in the U.S. now than before the COVID-19 pandemic, they still average lower than mortgage payments. Of course, the housing market is always in flux. The staff at Newsweek claims that median apartment rentals in this country are more than ​$1,200 a month​, and it is predicted that the numbers will be increasing in the coming years.
The Lending Tree study reported that San Jose, California has the highest average monthly rental rates, with a median price of ​$2,249​. The average mortgage cost for this city was ​$3,347​, though. For New York, the average rental was ​$1,439​ and the median mortgage was ​$2,802​. Smaller cities showed less of a disparity in the figures. In Atlanta, rent vs. mortgage prices were ​$1,156​ and ​$1,544​; for Charlotte, North Carolina it was ​$1,030​ vs. ​$1,398​.
While renters do not have to pay property taxes or make major repairs, there are certain expenses when renting a house. My Home by Freddie Mac explains that there are upfront costs, like security deposits, application fees, move-in fees and pet deposits. Recurring costs may include utilities, renter's insurance, homeowners' association fees and other items that should be described in the rental agreement.
People who are moving to new homes also have to pay for moving costs, and many do it on their own instead of hiring movers. The cost of renting a U-Haul may be factored into moving costs as well. The professionals at Move.org post that the company's median price for a move of ​100 miles​ or less is ​$38.70​ plus ​99 cents​ a mile. There are other companies that provide this service, but U-Haul has 21,000 locations and is thought to have the largest selection of moving trucks.
Transporting to Your Move
The cost of renting a car has also increased. To save money during the pandemic, many large rental companies had to sell off parts of their fleets. This reduced the supply, but now that people are traveling again the demand is back up. It's simple economics – prices have increased, and it is harder than ever to find rental cars. Consumers have turned to rideshare services, car sharing, public transportation and renting from airport locations.
People who do not want to fly on planes but still want to travel have been renting recreational vehicles, or RVs. The cost of renting an RV depends on the class and age, and the larger the RV, the more you have to pay.
The writers at Auto Trader explain that Class A is the biggest category. These bus-like vehicles average about ​$175 to​ ​$275​ per night for ones that are 10 or more years old and ​$350 to $450​ a night for newer ones. Class B, or camper vans, are ​$100/$200​ for older vehicles and ​$200 to $350​ for the newer ones; Class C chassis cabs are about ​$150/$200​ for old and ​$225 to $400​ for newer.