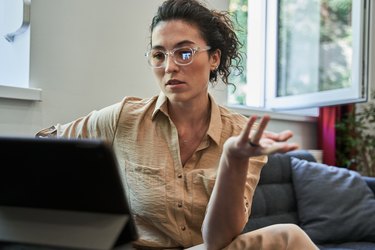 During the pandemic lockdown, people's mental health was put to the test. But money was tight, and face-to-face therapy sessions were not possible. As a result, access to affordable therapy was in demand. Fortunately, online therapy became prevalent with affordable options.
Access to Online Therapy Services
For some, having continual access to an online therapist may make in-person therapy unnecessary. You now can receive therapy sessions in the comfort of your home instead of therapists office. From psychotherapy to cognitive behavioral therapy, licensed therapists can provide you with the help you need. There are so many mental health conditions that online therapy can address:
panic attacks
substance use disorder
traumatic stress
depression
anxiety
and more
These mental health services can give you online counseling within your schedule. And if you're looking for the best online therapy, do your research for both therapy options and pricing.
Online vs. In-Person Therapy Costs
One barrier to any therapy is cost. To be effective, mental health care is an ongoing proposition. It's not a one and done service. It takes time and monetary commitment.
Traditional therapy services had you come into an office anywhere from a half-hour to an hour. And you paid by the hour. The cost always depended on the therapist's qualifications and what region you lived in. Generally, you could be charged anywhere from $65 per session to $250 per session. And this charge didn't come with any other regular access to your therapist unless it was an emergency.
The online therapy platform works differently. The patient pays a flat fee per week and has access to a professional when needed. Many services range anywhere from $40 to $100 a week. The price swing is based on the type of therapist you will be working with. The therapy experience is more laid back since it's at the venue where you feel more comfortable.
Having continual access to an online therapist may make in-person therapy obsolete.
BetterHelp Largest Online Therapy Service
BetterHelp's platform matches an individual with a licensed therapist. With ​20,000​ licensed mental health professionals, many different specialties are available to you, from anxiety to depression. BetterHelp matches an online therapist to you to meet your needs.
You can video chat or text a licensed counselor. They offer affordable therapy that runs from $60 to $90 per week. This is billed every four weeks.
video
phone
live chat
unlimited messaging
When you sign up, you receive ​20 percent​ off your first month.
ReGain and Relationship Counseling
ReGain Counseling offers online relationship counseling and family therapy. They specialize in marriage and relationship therapy. Although video conferencing is available with a licensed therapist, most communication is conducted in a virtual room via text messaging.
Although this is geared toward couples, three-way communication is impossible; you and your partner must be in the same room during therapy.
ReGain counseling costs between $60 and $90 per week and includes unlimited phone or video chats and messaging. Unfortunately, there's no free trial, and they don't accept insurance. You will be billed every four weeks and can cancel anytime.
Pride Counseling LGBTQ Focused Therapy
Specializing in the LGBTQ community, Pride Counseling works with people of every gender, orientation and identity. If you are matched with a counselor that isn't working out, you can switch to another.
Based on your needs and availability, you can speak over the phone with your therapist. You can also chat live, exchange messages or have video sessions.
Pride Counseling costs $60 to $90 per week and is billed every four weeks. The price is based on therapist availability and location. The membership can be canceled at any time.
Although Pride Counseling doesn't accept insurance, they point out that their low prices are like a copay.
Talkspace offers video and audio messaging. This is with a therapist who responds one or two times each day, Monday through Friday. Talkspace also provides a 30-minute live individual therapy session and couples therapy with video and audio messaging. Text is used as well.
Talkspace Psychiatry is also available. This is for individuals who are interested in medication. Either nurse practitioners or psychiatrists provide medication evaluations.
A patient can choose any combination of treatments. The cost is ​$150​ per 45- or 60-minute session. But there are monthly plans available to meet any budget.
unlimited messaging therapy plus – ​$230​ per month
unlimited messaging therapy premium – ​$316​ per month
unlimited messaging therapy ultimate – ​$396​ per month
There are plans available for teenagers and couples.