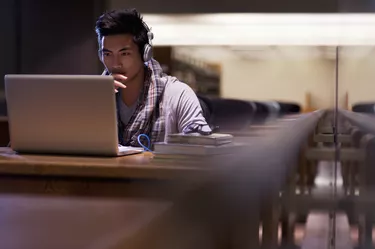 Udemy is an online learning platform with over ​185,000 online courses.​ Founder Eren Bali and two other young entrepreneurs launched udemy.com in 2010 to offer an accessible educational platform to help people develop new skills at their own pace.
Competition is steep for online learning from for-profit massive open online course providers (MOOCs) to colleges and universities. Do Udemy's instructors, course content and course materials provide personal and professional advancement opportunities at a price that's worth it?
Getting started on the Udemy platform is as easy as creating a Udemy account on your computer or Android or iOS mobile device. You can download the mobile app on the Apple App Store and Google Play.
Start at udemy.com or download the mobile app. Enter your name and email, create a password and click "sign up." Once you have an account, you can log in using your email, Apple account, Google account or Facebook.
Once logged in, you can choose the courses you want and start learning. If you'd like to sample free courses, there are more than 150 to choose from on the Udemy Free Resource Center. If you're ready to take a paid course, you can head straight to the main search page of the Udemy website and browse for courses.
If you want more insight into a particular course before enrolling, you can find student Udemy reviews as part of the course information for every Udemy course.
Choosing courses that help you advance the skills needed for your job ensures you get something out of the Udemy platform. But those skills don't come cheap.
Udemy is not an accredited institution and doesn't have a central educational unit that designs courses and coursework. Each Udemy course is created and managed by a Udemy instructor and is offered to learners entirely on-demand. You can start the course any time and review course materials as often as you like. There are no deadlines, and the content doesn't expire.
The Udemy business model is an online revenue-sharing marketplace. Udemy instructors create and deliver the content and are charged a fee for course enrollments, depending on how the student came to the course. For instance, if a student uses an instructor's referral link, the instructor receives more revenue than if the student finds the course through Udemy's digital marketing.
Udemy Course Content and Access
Udemy offers online students "lifetime access." According to the Udemy website, you have unlimited access to any course content you purchase as long as your account is in good standing and Udemy still has the license to that course. If a class is removed from Udemy, you can contact the company for help.
Course materials may include videos, slides, articles, quizzes and other downloadable resources. You have lifetime access to all aspects of Udemy courses you purchase.
Udemy's course content runs the gamut of personal enrichment and skills-building professional development courses for beginners and advanced students. Some popular professional development topics include digital marketing, social media, Python, Excel, web development and selling goods on Amazon.
All Udemy courses generate a certificate of completion, but no formal credit. The skills you gain are the tangible benefit of Udemy. Choosing courses that help you advance your job skills ensures you get something out of the Udemy platform. But those skills don't come cheap.
The Cost of Udemy Courses
Course prices on the Udemy learning platform range from free to nearly ​$200​. Udemy offers periodic specials and promo codes, so you can usually find better pricing.
The payment methods Udemy accepts include credit and debit cards, PayPal, electronic bank transfer and other methods, depending on where you live. There are also "buy now, pay later" options.
In most cases, you pay for Udemy courses as you enroll in them unless you or your employer has invested in a Udemy for Business subscription. However, Udemy has rolled out a limited monthly subscription option, called the Personal Plan, currently priced at ​$29.99​.
Over 5,000 Udemy courses are offered in the Personal Plan, but lifetime access is not a benefit of the plan. The subscription isn't widely available yet but may prove to be a better value for those who use the Udemy platform often.
How Udemy benefits you depends on what you are looking for and how much you are willing to pay for it. It's not centered around academic courses like Coursera, and the certificates may not be as highly recognized as LinkedIn or Udacity.
That said, the Udemy platform has a lot of good content. Its course quality and learning experiences are generally rated well by its ​49 million​ learners worldwide. The content can be pricey, though, so how the monthly subscription develops may mean a lot to Udemy learners looking to get more out of their enrollment dollars.