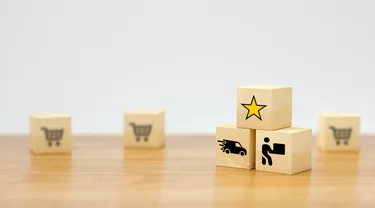 Purchasing online is efficient and ultra-convenient, but the situation can become a lot more complicated if you want to return your purchase for some reason. NPR has reported that the majority of online shoppers don't even bother because it can be such a hassle.
But you're not defenseless if you find that you're the proud new owner of unwanted items or damaged merchandise. The key is to review the site's return policy before you click and buy. Know what you're getting into. Consumer Reports indicates that only one in three shoppers takes the time to do so.
Almost all reputable online retailers enforce deadlines and post information about how long you have to return an item. Amazon draws a firm line in the sand. It refuses to accept online returns after ​30 days​, although Bed Bath & Beyond will give you an entire year. Apple is among the stingiest of all. You only have ​14 days​ here, regardless of whether you buy online or at a brick-and-mortar location.
Some stores, like Kohl's, relax their rules a little during the holiday season.
The store's return policy should also tell you if they'll prepay return shipping costs. Hunt through the packaging for a return shipping label. You're good to go if you find one – at least with regard to shipping.
You might find yourself on the hook for "restocking" fees even if you dodge the shipping costs. Apple and Best Buy charge 15 percent and Best Buy wants $45 to accept the return of apparel, tablets or cellphones if the original packaging has been opened.
Amazon indicates that it can take them as long as ​a month​ to refund your money, depending on the payment method you used. And some stores might offer a credit rather than cash back. But federal law has you covered if you don't receive what you paid for. The Federal Trade Commission indicates that sellers must refund your purchase money in this case. They can't try to make things right with a store credit.
Some Purchases Can't Be Returned
Keep in mind, too, that not all online orders are returnable. Swimsuits and undergarments typically can't be returned, and some stores require that the purchase be returned in the original, unopened packaging unless it's defective. Kmart won't accept returns on "seasonal" items – think holiday decorations – after the holiday is over.
Options for Returning Merchandise
Your last hurdle is figuring out how the merchandise is going to get back to online retailers, even if they've prepaid for shipping and provided you with a return label. You might find that you have to transport the item to a FedEx drop off location or a UPS store for delivery, although you may have other options, depending on your location.
Kohl's and Whole Foods will accept online purchases for return, and they'll even box them up for you and send them back for free...with a catch or two. You can only return Amazon purchases this way, and third-party sellers through Amazon don't count. You must also have a qualifying zip code. You can check your purchased item and your zip code at Amazon's website. You'll know you don't qualify if you don't see a "Kohl's drop off" option for your purchase. Otherwise, Amazon will send a QR barcode to your phone that you can provide to a Kohl's or Whole Foods associate.
As for UPS, you're in luck if the retailer has signed up for UPS Quick View Returns. You can print out a return label, or you can take your package to a UPS store and they'll print out a return label for you.
Some Tips and Precautionary Steps
Online shopping should still save you a lot of time and commuting money if you take a few precautions. Protect yourself by taking photos of any purchase that arrives in damaged condition. And make sure you don't inadvertently toss that shipping label in the trash. And, of course, you'll want proof of the charge to your credit card or other payment option.