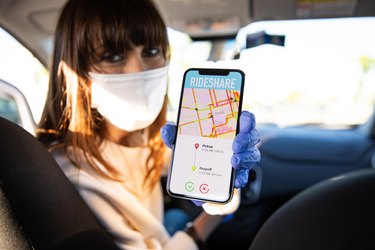 While the coronavirus pandemic has cut into many of our rideshare habits, drivers are still out there, and their companies are still trying to make money. Normally, their business model relies on volume: Increase the number of rides and you increase profit margins. When ridership declines as precipitously as it has this spring, Uber is going for a new tactic.
The Verge reports that Silicon Valley's onetime favorite unicorn will now offer the option for riders to block out times with multiple stops using a single driver. Rather than bouncing from car to car, extending your wait time and expanding your risk of COVID-19 exposure, you can choose an "Hourly" option when you request a driver and essentially lock in a flat rate. This is available internationally, but it's coming to 12 U.S. cities: Atlanta; Chicago; Washington, D.C.; Dallas; Houston; Miami; Orlando; Tampa Bay; Philadelphia; Phoenix; Tacoma; and Seattle.
The pandemic has proven that ridesharing is one luxury we're generally happy to skip, but it's not the first time the concept has come under fire. Even as we got horrific reports about Uber's company culture and rider safety breaches, we also learned that ridesharing is way less efficient than a lot of transportation alternatives, including biking and public transit. And while the app can guarantee a driver that will pick up your pet, it can't protect passengers from bias incidents. The sector is feeling the pinch in a big way; hopefully it will see fit to improve in more ways than passenger options alone.