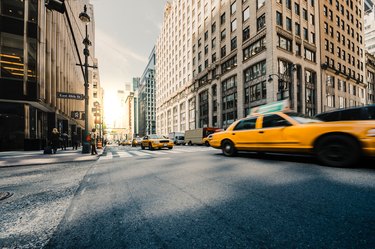 The United States hasn't seen unemployment this high since the Great Depression, but despite the COVID-19 pandemic outbreak, you still need to pay your bills. Whether you've navigated the system before or not, you probably already know how overwhelming and frustrating the process of receiving unemployment insurance benefits from the government can be. Here are some quick links and resources to make finding your way to the money you're eligible for easier.
If you are an employer, visit the New York Department of Labor's hub for Uninsurance Information for Employers for more information on how employees claiming unemployment affect your business.
How to claim unemployment
Visit New York's Get Unemployment Assistance page for guidelines on the documents you need, what to expect as you file your claim, and how to proceed with unemployment benefits going forward. Because of the pandemic, this includes W-2 workers and the self-employed, freelancers, gig workers, and 1099-independent contractors, as well as those who qualify for Pandemic Unemployment Assistance. You may experience delays applying for unemployment because of volume, but keep at it.
Apply for unemployment insurance claims based on the first letter of your last name.
Monday: A through F
Tuesday: G through N
Wednesday: O through Z
If you need to speak to someone or apply over the phone, call (888) 209-8124, Monday through Friday 8 a.m. to 7:30 p.m., and Saturday and Sunday 7:30 a.m. to 8 p.m.
Translation services are available in Spanish, Russian, Cantonese, Mandarin, Creole, Korean, Polish, and all other languages.
If you live out of state, file by calling the Out of State Residents' Office at (877) 358-5306.
If you're hearing impaired and have Telephone Device for the Deaf (TTY/TDD) equipment, call a relay operator at 1-800-662-1220 and request that the operator call the Telephone Claims Center (1-888-783-1370) to file or complete a claim.
In addition to unemployment payments from the state, the federal government will distribute $600 alongside each disbursal through July 31, 2020. Benefits are available for 26 weeks. An additional 13 weeks of benefits are available through the federal CARES Act. In New York, this extension is automatic.
Who is eligible for Pandemic Unemployment Assistance (PUA)
Those who don't qualify for regular unemployment benefits can still get PUA if they are diagnosed with, experiencing symptoms of, or affected directly by COVID-19, including:
A member of the individual's household has been diagnosed with COVID-19
The individual is providing care for a family member or member of the household who has been diagnosed with COVID-19
A child or other person in the household for which the individual has primary caregiving responsibility is unable to attend school or another facility is closed as a direct result of the COVID-19 emergency, and the school or care is required for the individual to work
The individual is unable to reach the place of employment because of a COVID-19 quarantine or because a healthcare professional has advised him or her to self-quarantine due to COVID-19 concerns
The individual was scheduled to commence employment and does not have a job or is unable to reach the job as a direct result of COVID-19
The individual has become the breadwinner or major support for a household because the head of the household has died as a direct result of COVID-19
The individual has quit his/her job or was laid off as a direct result of COVID-19
The individual's place of employment is closed as a direct result of COVID-19
Learn more about New York's PUA program, further translations of PUA-related FAQs, and other guidelines and deadlines at the state's CARES Act resource hub.