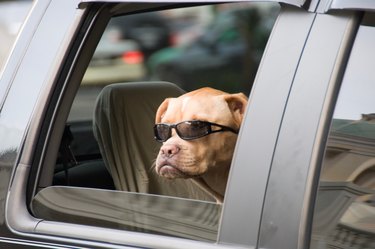 If you own a furry friend — particularly a big dog — and not a car, getting your best pal around town can be a real hassle. Rideshare drivers can refuse service at their own discretion, no matter how much you protest that your companion would treat that back seat far better than a drunken fare on a Saturday night. For one hailing app, that's about to change for the better.
This week, Uber announced that it was adding an option to its interface that bakes in the news that your driver will be picking up a pet when you order a car. Starting Oct. 16, users in a few test cities, including Philadelphia, Denver, and Nashville, can select Uber Pets in the same way they opt into UberX and Uber Pool; for a small fee ($3 to $5), the app will guarantee that your driver is good to go with transporting your dog, cat, or other beast.
As with all the major rideshare companies, this doesn't apply to service animals, which the law requires to be welcomed into a car. If you're not in one of Uber Pets' test cities, you can still call or message ahead to really confirm that your driver is okay with your pet, no matter how big or fluffy. It's a positive step for pet owners, but there are still some places it's not likely to fly. After all, we all know the perils (or at least the funny stories) about the animal friends we've tried to stash on airplanes.