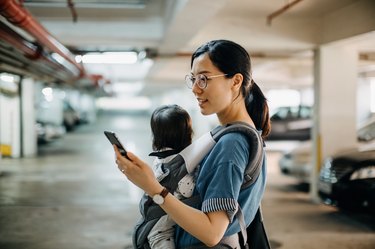 Google has become so ubiquitous in our 21st-century lives that it's been a verb for almost as long as it's been a company. We'll often wish to use a search engine in offline circumstances, only to find that Google has developed an app for that (Books, Scholar, Maps, and so many more). The company's latest life upgrade is going to please a lot of drivers.
Google Assistant, the same AI that runs on smart speakers, smartwatches, TVs, cars, and more to help you organize your digital and IRL lives, has just added an automatic capability to record and remember where you've parked your car. You can also say out loud, "Hey Google, remember where I parked." The program uses location data to mark where your car stops; all you have to do is ask Assistant to show your where it is.
There are some snags, of course. Because of the way location tracking works in general (basically, it relies on constantly checking nearby Wi-Fi — no, really) and how it works for Google Assistant in particular, sometimes your results will be a little vague. That said, you've also got a manual option for remembering your car location. Using your Google Maps app, simply tap the live blue dot showing where you are. A menu should pop up with the option "Set as parking location."
Since Google Assistant actually relies on your location history rather than pinging any receiver it can find nearby, it's possible that if you park regularly in the same spot, this could help future you find your car even faster.