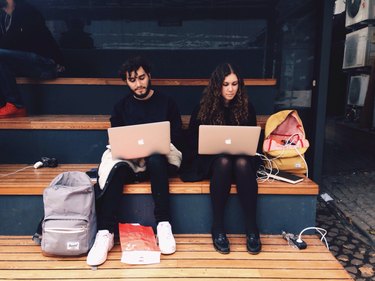 Working from home is one of the most sought-after benefits of the office job. When you're a remote employee, you can drink coffee in your PJs all day as long as you're hooked up to Slack. There is still one big question to deal with, though: How do you get to know your colleagues?
Researchers at the University of Connecticut have been looking into what kinds of relationships within virtual teams are most productive. This applies more widely than you'd think: The UConn team classified even those who work in the same building but communicate largely online as "virtual." Overall, the results are much what you'd expect management would want — keeping things "professional" is the best kind of work friendship, whether you're in the office or offsite.
In short, it is not productive to learn whether your colleague watches Supergirl or prefers ramen to pho. The team (and the company) will be much better served if you focus on learning job-related facts, such as a person's special competencies or accredited degrees and certificates.
That said, this study is not the final word on how teams work best, even remotely. Research published last year concluded that working with friends on a group project will produce a better end result. So when it comes down to the choice between joking around in a goof-off Slack channel and staying focused on the task at hand, consider the wisdom of the Old El Paso tortilla girl: Why don't we have both?