It's become one of the most popular personal payment apps on the market, but Venmo doesn't charge fees for most of its transactions. As with any free platform, this leads to the question, "How do they make money?" But the app is only free if you use your Venmo balance, a debit card or a checking account to make payments. It's through the 3 percent transaction fee on credit cards that Venmo currently makes money.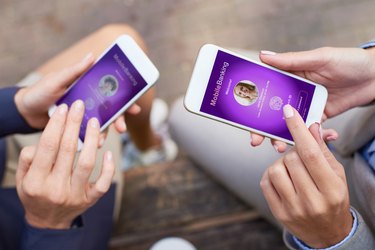 What Is Venmo?
Founded in 2009, Venmo was originally designed to make it easy for friends to send money back and forth. In an increasingly cashless society, it allows friends to easily pay each other back or split costs. The app has a social media-like interface designed to make transferring money fun. In 2014, PayPal acquired Venmo as part of its $800 million acquisition of Braintree and all of its companies. But in recent years, the company has been experiencing rapid growth as it looks beyond personal payments to a more financially lucrative business model.
How Does Venmo Make Money?
Like PayPal, Venmo takes a small amount from the 3 percent credit card transaction fee it charges. Although PayPal uses the same revenue model, that company also can count on the interest it earns from the balances many of its members carry. Since Venmo users don't seem to have a habit of leaving thousands of dollars in their accounts, the company has been looking to business payments as a revenue stream. Many websites that accept PayPal for payments now have a "pay with Venmo" option, which lets members pay using their Venmo balance. In the coming years, Venmo wants to work with more businesses to offer Venmo as a payment option, which will, in turn, encourage users to keep their money with Venmo, rather than transferring it to a bank account.
How Much Does Venmo Cost?
Venmo is always free, as long as members use a linked bank account, debit card or their Venmo balance. However, if they want to pay using a credit card, there is a 3 percent fee for that. Although Venmo pays a large portion of that to the credit card processing company, it does take a small cut of each credit card transaction.
How Much Money Can You Send on Venmo?
One drawback to Venmo is that there are limits as to how much money you can send. Each member starts with a weekly limit of $299.99. However, once your identity has been verified, your account limit is increased to $2,999.99 every seven days. For merchant payments, though, you're given an additional $2,000 per transaction, not to exceed $4,999.99 in total transactions per week. There's also a limit to the number of business transactions per day on the platform. Each account cannot exceed 30 authorized merchant payments every day. To verify your identity with Venmo, you'll need to supply the last four digits of your Social Security number, your ZIP code and your birthdate. Once you've completed this part of the process, Venmo may require additional documentation as a security measure.
Other Considerations
Credit card transactions aren't the only way Venmo plans to make money. As with credit cards, Venmo will charge a fee to merchants who accept payments from Venmo users. This fee is 2.9 percent plus 30 cents per transaction. The app is extremely popular with the always-appealing younger demographic, which makes it attractive to merchants. Businesses like Foot Locker, Lululemon Athletica and Forever 21 have added Venmo as a payment option on their websites, and Venmo is also partnering with mobile app-geared businesses, including Grubhub, which owns Seamless and Eat24.