Venmo is an app designed to make it as easy as possible to transfer money between friends. Whether it's reimbursing the cost of concert tickets or paying back a parent the $300 she loaned you, just a few taps on a screen moves funds from one account to another. The app is especially popular with millennials who prefer its social media style setup to older apps like their parent company, PayPal.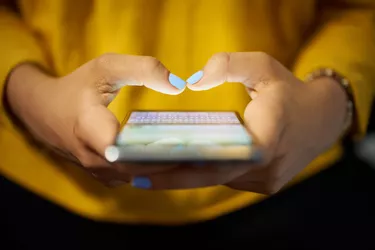 What Is Venmo?
At one time, if a group of friends wanted to share the cost of a pizza, everyone needed enough cash on hand to pay his share. Venmo takes cash out of the equation, letting members send money electronically. But transactions aren't limited to personal use. Businesses can set up accounts and allow customers to pay using the app. The option has also been built into PayPal payments on many e-commerce sites, letting customers choose the "Pay with Venmo" option during checkout.
How Do You Send Money Through Venmo?
To get started using Venmo, you'll first need to download the app, which is available for iOS and Android devices. Once downloaded, you'll need to connect a bank account if you want to eventually be able to transfer any balance you accrue. When you're ready to pay or accept money, you'll see an icon of a square with a pencil above it in the top-right corner. Click on that, add the friends you're sharing money with and choose either "pay" or "request." You can also add a note to go with it.
How Do You Put Money Into Your Venmo Account?
Once you've input your banking information, you'll need to verify your account. You can do this by providing the username and password you use with your bank account or by allowing Venmo to make two microdeposits that you can then verify. Once that process is complete, you won't have to do anything to put money into your account. When you pay someone, the amount will come from your Venmo balance first, then your connected account. You can also connect a credit or debit card if you'd prefer the money come from there once your balance has been exhausted.
Where Does Venmo Money Go?
Unfortunately, when your friends send you money through Venmo, you won't see the amount in your bank account right away. Instead, Venmo will hold it, just as services like PayPal hold your funds until you transfer them. You can use the balance to pay friends, buy things from sites that accept it as a form of payment or transfer it to your bank account.
How Do You Get Your Money From Venmo?
Transferring money from Venmo is simple and fairly quick. Click on the icon in the upper-left corner of the app and choose "Transfer to Bank." You'll see an estimated transfer date. In most cases, your money will be in your account the next business day, as long as you initiate the transfer by 7 p.m. EST. Currently, Venmo only allows transfers to bank accounts, so you won't be able to deposit funds to your credit card.
Is There a Limit to How Much You Can Venmo?
You are limited to $19,999 in transfers per week, as well as only $2,999.99 per transfer, so if you're dealing in higher dollar amounts, you might want to find a different way to transact money.
Other Things to Keep in Mind
Venmo is set up with the goal of making money-sending fun. This means that a huge part of the app is seeing your friends' transactions. If your roommate pays you for the cable bill this month, everyone else will see the username of your roommate, as well as the fact that she paid you for cable. It won't state the amount, but you still may be uncomfortable with that information being shared. In that case, you'll need to go into the app's privacy settings and set it so that only you see the interaction. You can also choose to set a specific transaction as private at the time you send it. The app will honor the greater of the privacy settings between the individuals exchanging money. Also, Venmo has begun cracking down on transactions that violate its terms of service, including using it to pay for items on Craigslist and event tickets. To protect your account, Venmo advises only sending money to people you know in real life.