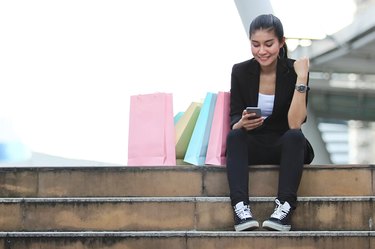 Although many consumers still stick to plastic when paying for items at the register, mobile wallets are becoming increasingly popular. Thanks to apps like Google Pay (formerly Google Wallet) and Venmo, though, mobile payments are gradually growing in use, especially with younger customers. But each digital payment form has its own unique benefits, making them ideal for different audiences.
What Is Google Wallet?
The app that was originally called Google Wallet has been integrated into Google Pay. The new Google Pay app also replaces Android Pay, which means once it has been installed, not only can you pay a friend for those concert tickets she bought, but you can also pay for items at the many merchants that accept it.
You can both send and receive money using the app or by going to pay.google.com. A user doesn't need to have a Google Pay account to receive money from you. You can simply enter an email address or phone number. If they don't claim the money within 15 days, it's returned to you.
What Is Venmo?
Venmo is an app that makes it easy to send and receive money among friends. You can pay using the balance you have in your Venmo account, if you have one, or you can connect a bank account or credit card to send money from there.
You aren't limited to peer-to-peer transactions with your Venmo account. Since PayPal is its parent company, Venmo now shows up as a payment option on websites that have a PayPal payment option. This is a bonus if you have a Venmo balance you haven't yet transferred to your bank account.
Pros and Cons of Each
Perhaps the biggest advantage of Google Pay is that when someone pays you, money goes into your account immediately as long as you connect a debit card to your account. With Venmo, you'll need to manually transfer the funds to your bank. If you do so by 7 p.m. EST, it should be in your account the next day, although there is now an instant transfer option for an extra 25 cents per transfer.
Both apps are completely free as long as you send money using a bank account or the money in your account with the app. If you want to send money to friends using a credit card, though, you'll pay a 3 percent fee on Venmo. Although Google Pay is completely free, there is no option to pay by credit card.
Transferring Money Between Apps
There isn't a direct route to get your money from Venmo to Google Pay or vice versa. If you have a friend that prefers Google Wallet, you'll need to move your balance to your bank account, wait a day or so for it to clear, then launch your payment through Google Pay.
If you're trying to transfer money from Google Pay to Venmo, though, you're in luck. You won't have a balance with Google Pay, since the money goes directly to your bank account. So, at any time you should be able to pay using any money you receive through Google Pay by simply taking it from your bank account.
Other App Considerations
Although Google Pay has no limits listed on its website, it cuts off single transactions at $9,999 or $10,000 per week. Florida residents are limited to $3,000 every 24 hours. Venmo, on the other hand, limits its users to only $2,999.99 each week once your identity has been verified. Payments to authorized merchants are limited to $2,000 per transaction.
It's only natural, when providing sensitive payment data to an app, to be concerned about security. Google Pay lets users lock all cards with a PIN. The company also promises that it provides multiple layers of security. Venmo uses encryption to keep its customers safe, also providing a way to disassociate your mobile device from your account if it's ever lost or stolen.