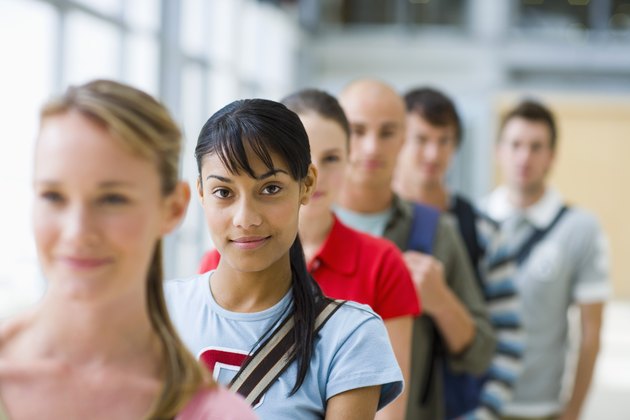 First, let's dispel a myth: that college scholarships are only for a few elite students with stellar GPAs. The truth is that there are myriad award opportunities based on factors including academic performance, financial need, talents and interests, community service and affiliations with religious or local groups.
Many students struggle with how to find and apply for scholarships and which scholarships they should go for. To make that easier on you, we get experts to dish on how to score cash for college.
There are scholarships as unique as every student.

Janine Fugate, vice president of marketing and communications at Scholarship America
When to Begin the Search
Students should start looking for scholarships as soon as possible, says Mark Kantrowitz, publisher of Fastweb.com and FinAid.org, and author of "Secrets to Winning a Scholarship," which could mean as early as junior year in high school.
"Many families wait until the spring of the senior year in high school to start figuring out how to pay for college. By then they've missed half of the deadlines during the senior year alone, since many scholarships have deadlines in the fall," he said.
That said, it's never too late to start a scholarship search, says Janine Fugate, vice president of marketing and communications at Scholarship America, a national organization that helps students find scholarships.
"There are many scholarships with late academic deadlines -- as late as June or July in some cases -- and there are scholarships for students who have already completed one year of post-secondary education," Fugate said. Of course, the earlier you start scouring for scholarships, the more options you'll have.
Where to Look
Looking for scholarships online is a good starting point, especially at sites such as FastWeb.com, which provides information about thousands of awards. Scholarship search engines such as Scholarships.com and The College Board allow you to browse scholarships, as well as create a profile that will help you find awards that match your criteria.
But don't forget about offline scholarship searching, say the experts. "You can find scholarship listing books in your local public library or bookstore, typically near the jobs and careers section," says Kantrowitz. Check the copyright date so you know you have the most current information in hand.
In addition, keep watch on bulletin boards outside the high school guidance counselor's office or college financial aid office for small local awards that may not be listed in any of the national databases. You can even find information about some scholarships in the coupon section of the local Sunday newspaper, Kantrowitz said.
Speaking of local, that's one of the best ways to start your scholarship search, says Kelly Tanabe, co-founder of SuperCollege.com, which offers a free online scholarship database, and its own $1,500 SuperCollege scholarship.
"Think about all of the organizations that you and your family interact with: your parents' employers; union and professional associations; community groups; churches; local politicians; and local businesses," she said, and see if any of those groups provide awards. "Local scholarships are going to be the ones you have the best chances of winning."
As for how not to find a scholarship? Don't pay anyone to do it for you, says Fugate. "There is no guarantee of earning an award, and the point is more money available to the student for education, not less." She also says to be leery of any scholarship provider that asks for a fee or financial information, since those requests are usually signs you're dealing with a scam artist.
Types of Scholarships
Scholarships can come from different sources, including private corporations, nonprofit organizations and the institutions themselves. However, who is eligible, how winners are chosen and the application process vary with every award.
"There are scholarships as unique as every student," said Fugate, which is why it's important not to give up on the scholarship hunt. Kantrowitz says that while students with better grades do tend to win more awards, many scholarships do not ask for information about GPA and test scores.
"There are many scholarships that don't depend on race or GPA or athletic prowess. One of my favorites is a scholarship for making a prom costume out of duct tape," he said. Yes, that's a real scholarship, offered by Duck brand duct tape.
How the Game's Changed
Once a student has found awards that he may qualify for, he should follow the application directions to the letter, and be courteous and professional in any correspondence. That's the way it's always been.
But what has changed is that students who are vying for scholarships -- and college acceptance letters, for that matter -- now have to be sure they maintain a clean online presence.
"About a quarter of scholarship providers Google the names of their finalists and ask them to friend them on Facebook," said Kantrowitz. Partly the providers are looking for red flags that demonstrate a lack of good judgment or behavior that might not reflect well on the scholarship provider -- a negative attitude or underage drinking, he says.