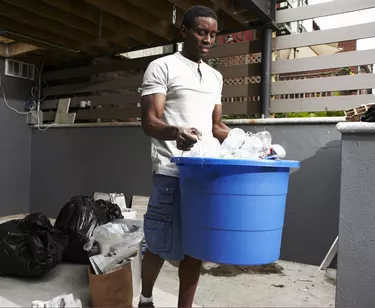 With the second-largest end-of-use recycling infrastructure in the country, Georgia sets an example many other states could follow. You can set up curbside recycling pickup in many cities throughout the state, but if you want cash for your recycling, you'll be out of luck. Georgia customers actually pay for recycling pickup, although the city does make a small amount of money off of the recycling it picks up at your home or business.
Recycling Plastic Bottles for Cash
Georgia isn't one of the few states that require a minimum payment to residents who recycle plastic bottles. In fact, if you want curbside pickup in the state, you'll probably have to pay a fee for it. There are some recycling initiatives that provide discounted recycle bins to businesses or trailers for special events.
If you live in the state of Georgia, check the recycling initiatives offered by Georgia Power. You can get cash in the form of rebates for recycling certain items or switching your household or business appliances to something more energy efficient. In general, though, being more environmentally conscious can affect your family or business in a variety of ways. If you reduce consumption, you save money, whether you do this through reusable drinking containers or switching to appliances that consume less electricity each month.
Georgia's Bottle Bill Status
Some states have something called a bottle bill, which means that by law, recipients are required to pay a minimum deposit for beverage containers. These bills incentivize recycling and reduce the amount of waste going to landfills. Currently, there are only 10 states with bottle bills: California, Connecticut, Hawaii, Iowa, Maine, Massachusetts, Michigan, New York, Oregon and Vermont.
Although Georgia doesn't have laws requiring payment for recycled items, there are always-evolving programs to encourage residents to keep trash out of landfills. One statewide program sets up recycling trailers at special events, and those trailers can also be rented. If businesses are trying to encourage recycling, they may be able to obtain recycling bins at a discount.
Household Recycling Cost
Not only are plastic bottles for cash not an option in the state, if you want your bottles to be picked up at your house, you'll pay for the service. In some areas of Atlanta, households pay $88 per year for recycling pickup. The City Council shut down a 2017 bill that would have increased that annual fee to $130.
When households and businesses recycle, the city actually benefits. Those trucks take trash to recycling centers, which pay for the materials. Each year, Atlanta brings in an estimated $40,000 in revenue from recycling. In December 2018, the amount the city received per ton of recycled material had increased to $2.56 per ton – a significant decrease from the $30 per ton the city made in 2012.
Georgia Recycling for Cash
Although you can't easily recycle plastic bottles for cash in Georgia, there are other recycling programs that can help you. Georgia Power offers a $35 rebate if you recycle your refrigerator through their program, and all you have to do is schedule a free pickup. You can also earn rebates for installing a smart thermostat or Level 2 charger, or by converting to a heat pump.
Residential customers aren't the only ones who can benefit financially from recycling. Georgia Power offers rebates to businesses for installing heat pump water heaters, strip curtains, variable-speed irrigation pumps, variable-speed ventilation hoods, virtualization software for your servers, glass doors on refrigerator cases and variable frequency drives on HVAC systems. These initiatives will not only earn you money at the time of purchase, but they may also save money on your home or business energy costs.