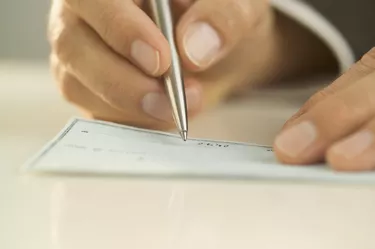 A check that is made out to you as the payee, but not dated, can be cashed at your financial institution. The Uniform Commercial Code doesn't require the check writer to date the check. Instead, you can cash the check or deposit it into your savings account or checking account.
Because there is a space for a date, some people get confused about what date to put in there. Sometimes a payer will insert a future date, which can be confusing. In addition, some payees worry that the check will have an expiration date. Here are some frequently asked questions concerning checks and dates.
How Do I Cash a Check Without a Date?
If you need to cash checks that don't have dates, your financial institution will accept them. And unless the check or checks have insufficient funds, the bank or credit union won't require a new check.
Endorse the back of the check as you would any other check. Make sure you have identification with you. When cashing checks, the bank teller will check the account balance in your account to make sure you can cover the payer's check if it has insufficient funds.
This is because they are fronting you the money before they know if the check clears. So if it bounces, the overdraft fees are on the check writer. But if it overdraws your bank account, you might also incur overdraft fees.
Common Questions About Dates on Checks
If you're using a personal check instead of a credit card, debit card or cashier's check, you must fill it out correctly. From a post-dated check to wrong dates, knowing what date should go on a personal check can be confusing.
How Important Is the Date on a Check?
A financial institution would not necessarily reject a check based on a date. A bank or credit union is more concerned about the check's validity than its date. The check would not be honored if there were insufficient funds in the account. A date would not influence it.
Does It Matter If I Put the Wrong Date on a Check?
A payee may be uncomfortable if a check writer enters the wrong date on a check, but the financial institution would probably not care. You should be accurate when dating a check but personal checks having sufficient funds to cover the balance are far more important than putting wrong dates on the personal checks.
I Forgot to Write the Date on the Check: What Could Happen?
If a personal check is presented to be cashed without a date, it's assumed that it was written that day.
Although written personal checks should never be altered, if the payee wanted, they could write the date on the check. Or the check can be deposited or cashed without a date.
What Date Should I Write on a Check?
You should write the date for the day the check was written. For example, if you write a personal check on January 16, 2023, then the date should read, January 16, 2023. The exception is if you are writing a post-dated check.
Can I Deposit a Pre-Dated or Post-Dated Check?
You can deposit a pre-dated or post-dated check. The bank or credit union will accept personal checks that have been pre-dated or post-dated.
Can I Cash a Post-Dated Check Early?
The check writer may want you to wait until the post-dated check official date for you to cash it. If you cash a post-dated check early, you risk overdraft fees if there are insufficient funds in the checking account.
However, a bank or credit union is not required to wait to cash a post-dated check. But some state laws might say otherwise so check with your financial institution.
Personal checks are usually valid for six months.
A cashier's check is backed by the financial institution, but its expiration date depends on the issuer. Some cashier's checks don't expire, while others become a stale check after 60, 90 or 180 days. It is almost impossible to get a replacement cashier's check if it expires. So it's best to cash it right away and not wait.
A money order doesn't expire.
And finally, U.S. treasury checks, like tax refund checks or Social Security checks, are void after 12 months.