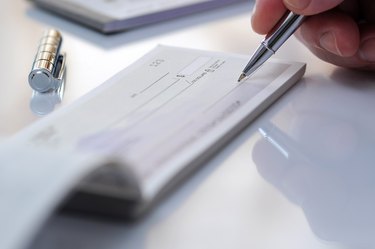 Many rules that apply to banks can vary somewhat from state to state, but one is the same coast to coast: Personal checks you write must be dated. This information tells the bank and the recipient when you wrote the check and when you intended to make payment.
The date is entered on a line at the top of the check in the right corner, right below the check number. But it's not necessarily binding.
The Date Isn't That Important
Banks generally aren't obligated to honor the date you enter when you're writing a check, according to ConsumerReports.org. A check becomes legal tender when you sign it, regardless of what date you enter on that upper right corner line. The check recipient can cash or deposit it regardless of the date you enter there.
But federal law becomes involved here to some extent. The Uniform Commercial Code, or UCC, does impose an expiration date on personal checks. The UCC indicates that checks can expire ‌six months‌ after they're written. But this just means that a financial institution doesn't have to honor and pay an old check after this period of time has passed. It can do so if it wants to. And determining the deadline depends on the date that's been entered on the check.
Cashier's checks are an exception, but this can depend on state law. The California State Controller indicates that these should be cashed or deposited within ‌three years‌ of their date.
It's not uncommon for an account holder to "postdate" a check by entering a future date. Maybe you're faced with making an emergency purchase on Tuesday, May 2 but your paycheck isn't going to hit your bank account until Friday, May 5, so you enter May 5 on your check instead of the current date.
This doesn't prohibit the payee from cashing or depositing your postdated check before Friday. And it doesn't prevent your bank or credit union from honoring it before that day, either, according to the Consumer Financial Protection Bureau. It can then hit you with an overdraft fee for insufficient funds if there isn't enough money in your checking account to cover it. Again, banks aren't legally bound by the date you enter on the check.
And it should be noted that you're committing an illegal act if you write a bad check – you know sufficient funds to cover the check won't be in your account on May 5, either. It's against the law to write a check that you know won't be honored, according to Huntington National Bank.
Other Check Dating Options
You may not be totally defenseless if you find yourself in a position where you must postdate a check. Some states give you the option of notifying your bank that you do not want the check to be paid until the date you've written on it. Your notice can be valid for up to ‌six months‌ if you submit it in written, dated form, according to the Consumer Financial Protection Bureau.
The bank can then pay it on or after the date you've cited up until the six-month period has expired. But you only get ‌14 days‌ if you give your bank or credit union oral notice, such as by paying a visit or making a phone call.
HelpWithMyBank.gov warns that the issuer of the check may be charged a fee for this courtesy.
Date When a Check "Clears"
Dating isn't just about when you write a check. It's also a handy tool for telling you when someone received and accepted your payment.
You can find the date when your check "cleared" or was paid by your bank or credit union on your statement. It should be noted there, and the information should appear online or on your mobile app if your bank provides online banking and/or mobile banking.
But many businesses submit checks electronically these days, and the Office of the Comptroller of the Currency warns that "EFT" transactions – electronic fund transfers ­– can be lumped together on your statement. You might have to do a little digging to find them. Federal law requires that your bank list them, however, including the transaction amount and the date the payment was processed.