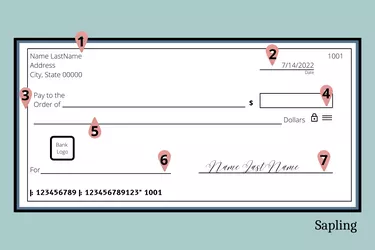 It can happen even in today's world of online banking and mobile banking: You need cash, and your debit card is MIA. Ah, but you can lay your hands on your checkbook and write a check for cash.
There once was a day when writing a check was as commonplace as yawning, but AmeriChoice Federal Credit Union reports that a 2013 study by the Federal Reserve indicates that the act of writing checks decreased by more than ​50 percent​ in the first 12 years of the ​2000s​. But it's not a complicated challenge once you understand how to fill out a check for cash.
The key line in writing a personal check for cash is the second one that appears near the top of your check, marked as "3" in the image. It begins with the words, "Pay to the order of" and is sometimes referred to as the payee line. This is where you would normally write the name of the person or business to whom you're making the payment. You – or anyone else who has possession of the check – is the payee if you write "cash" in this area. They won't even need an ID because no actual name has been entered here.
"Cash" means that it's payable to whomever presents it to the bank for payment. Your other, safer option is to enter your own name here if you want the bank to give you cash in exchange for your check.
Another critical line and a box state how much money the check is being written for. The dollar amount of the check is written twice to make it absolutely clear and to prevent fraud. The box is designated as "4" on the image and it's conveniently marked with a dollar sign. The line appears as "5."
You might be writing a check to cash for a hundred dollars. In this case, you would enter "100.00" in the box, and "one hundred dollars and 00/100 cents" on the line. It's important to include the cents notation in both boxes so the information that appears is exactly the same in each of them. Draw a line to the far side of the amount line to avoid having anyone enter additional information here to make the check payable for more than you intended.
The memo line on the bottom left side of your check (line 6) is just a memory nudge. It may say "memo," or it might say "for." Entering the reason you wrote the check can trigger your memory a month later when you're balancing your checking account. You'll recall why you needed $100 in cash that day, and remember that yes, you really did write the check. You might make a note that says "car repair" if you found out at the last possible moment that your mechanic won't accept your debit card or credit card.
It's also important to write the date on the line at the upper right-hand corner of the check (line 2) and include the full year. You can do this numerically or spell out the month: "08/01/2022" or "August 1, 2022." You'll want to get it to the bank within six months from this date, however, because checks can expire. They may not be honored by your bank after 180 days, according to P&G Credit Union.
Finally, be sure to sign your check on the signature line at the bottom left side of the check (line 7). The check is worth $0 without the signature of the account holder. And you'll also have to endorse the back of the check with your signature if you're planning on cashing it yourself. Be prepared to show your driver's license or some other official ID to prove that you're you.
You don't have to worry about that line of numbers at the bottom left of your check. That line just identifies your account number and the financial institution or bank's routing number.
The Cons of Writing Checks for Cash
You'll want to avoid leaving the "pay to the order" line blank if you're writing a check to cash, even though it will legally achieve your intent. A blank line allows anyone to simply enter their own name there and take your money if the uncashed check somehow falls into the wrong hands.
And, of course, you'll want to be absolutely sure that you have sufficient money in your account to cover the check so it doesn't bounce and create an overdraft. A bank teller at your own bank most likely won't honor or cash it if you present it yourself for payment, but a check-cashing store wouldn't have that information available so you could overdraw your account, on top of paying the check cashing fees that are normally charged by these services.
The federal Check 21 Act facilitates the procedure for banks to collect on paper checks via electronic means when they're written on accounts with other banks. So that check for cash to your mechanic could conceivably hit your bank account before you have time to make a deposit to cover it, according to the U.S. Department of the Treasury Comptroller of the Currency, especially if you make a check deposit that could take days to clear.