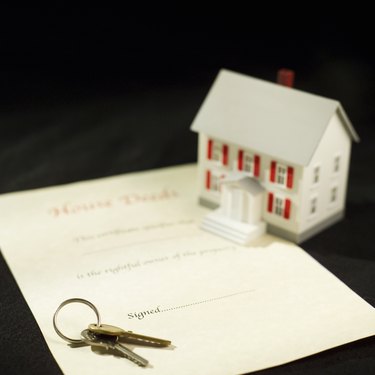 A deed to a house is a legal instrument that states the property owner, also known as the grantee, owns the house. Natural disasters and faded memories often account for missing deeds. Prior to technology, paper deeds were necessary in order to prove ownership. In an ever-increasing paperless age, this is no longer the case. In the event owners need a deed, for various legal proceedings or peace of mind, there are steps owners can take for more protection.
Recorder of Deeds
When the property was purchased, the property transfer was recorded at the county court office. You can obtain a certified copy of the property deed by the county clerk of court or the registry office for a fee determined by the local government. A certified copy holds the same legal clout as the original deed.
Banks
Contact the lender and ask for a copy of the mortgage. Some states allow the lender to give the homeowners a deed of trust. This will serve as evidence that the lender believed you were the owner of the property and at the time had proof to verify such belief, such as a title examination.
Title Company
Hire a professional title examiner to do a complete title report on the house and property. This information will provide the identity of the previous owners and the current state of ownership.
Real Estate Lawyer
A real estate lawyer will need to be hired to help owners draw up a new deed, retroactive to the original purchase date. The new deed will need to be notarized, and then the owners will need to go in front of a court officer to attain an affidavit that states the new deed is the replacement deed. The replacement deed and the affidavit will need to be presented to the county clerk.