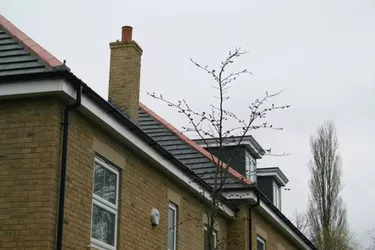 Transferring property deeds in Ohio from one person to another can be done fairly quickly with the help of a quit claim or warranty deed. The difference between these two deeds is a guarantee. The quit claim deed transfers ownership, but holds no guarantees that there isn't another party that holds claim to the property. A warranty deed does supply a promise that no other entity can claim the property. You can choose either of these options.
Step 1
Go to the Deed Transfer Department to obtain a transfer form for a quit claim deed or warranty deed. This department is typically found in the county government's offices or county courthouse where property records are kept. If you are unsure of where to go, call your county's main government phone number that is listed in the phone book and ask where the Deed Transfer Department is located.
Step 2
Take the form, along with the person to whom the the property is being transferred, to a notary public. Fill the form out with the property information and personal information in front of the notary. Have the notary sign the document and attach his seal.
Step 3
Take the form back to the Deed Transfer Department and turn it in to the County Auditor. The form will be reviewed by the auditor to make sure that it is filled out correctly, and the information will be recorded. Depending on the county, this could be accomplished via computer, paper records or both.
Step 4
Pay the fees associated with the transfer. In Ohio, there is a fee for the recording as well as a tax fee based on the sale price.
Tip
You can also choose a limited warranty deed, which promises that no one else can claim the property, but does not promise that the previous owner will help fight off any other claims. A trust deed can be used if you need to transfer the property to a trust.
Things You'll Need
Quit deed or warranty deed form

Notary Public

Fee

Identification