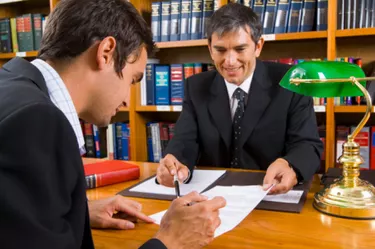 A quitclaim deed is a title that can be filed on a property that states the interest of one party to transfer a property that it owns to another party, even though the deed does not contain any warranties that guarantee the property's transfer. Quitclaim deeds are often submitted along with general and special warranty deeds that legally establish the receiving party's legitimate interest in the property. In Los Angeles County, quitclaim deeds are filed with the office of the county recorder.
Step 1
Obtain a quitclaim deed from the office of the county recorder in Los Angeles County. The main headquarters for the Los Angeles County recorder is at 12400 East Imperial Highway in Norwalk, a close suburb of Los Angeles. Branch offices of the county recorder are also located in Lancaster, Van Nuys and the LAX Courthouse. Visit the office in person to obtain a form, or call the office to ask to have one mailed to you. You can also obtain a blank quitclaim deed form from the official website for the Los Angeles County's county registrar-recorder, or you can purchase quitclaim deed forms at office supply or stationary stores.
Step 2
Fill out the appropriate information necessary to complete your Los Angeles County quitclaim deed form. Write your name and address in the appropriate blanks as the grantor of the property; you will also need to include the name or names of the grantees, or persons receiving possession of the property. Other necessary information includes the purchase price, if applicable, for the property and the complete legal description of the property. Sign the form as the grantor in front of a notary public.
Step 3
Obtain and complete the documentary transfer tax form and preliminary change of ownership form to be filed jointly with the quitclaim deed form. These can be obtained either online or in person at a county recorder's office. The documentary transfer tax form requires the property's location, the fair market value, appraised value and the amount of any applicable county and city taxes. The preliminary change of ownership form is also available from the county assessor's office in Los Angeles County.
Step 4
File the quitclaim deed, documentary transfer tax form and preliminary change of ownership form with the county recorder's office of Los Angeles County. Visit either the county recorder's office in Norwalk or one of the branch offices in person and drop off your forms. Quitclaim deed forms or any other officially authorized document will not be recognized by the branch offices if sent via mail, but you may mail these documents to the main headquarters at the Norwalk office.
Tip
Under certain conditions, transfer taxes may not need to be declared and paid for a quitclaim deed to be promised. Possible exemptions include a transfer due to divorce, restitution of property held as collateral, property given as gift and a quitclaim transfer of a property to a living trust.