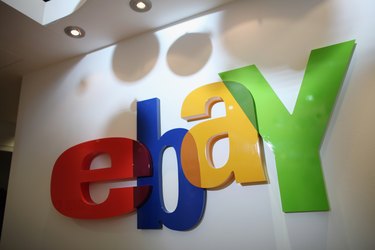 The way eBay conducts transactions depends partly on what eBay service you're using, as eBay has grown beyond its initial auction-style format to include more options for buyers and sellers. Nowadays, eBay includes online stores, vehicle listings from dealerships and private sellers, and even its own online classifieds site that rivals Craigslist.
Methods
Each transaction begins with the selling method. On eBay's general auction site, -- the primary section where virtually every category of merchandise is sold -- sellers can sell in two ways: by holding an auction or by accepting immediate purchases -- known as the "Buy It Now" feature. On eBay's automotive site, eBay Motors, eBay staff recommend that buyers and sellers use Escrow (see Resources), eBay's only approved escrow service, as of April 2013. And on eBay Classifieds, the buyers and sellers determine their own methods of payment, as this site is outside of the traditional eBay platform.
Payments
eBay works closely with PayPal (as well as Bill Me Later, a PayPal service) for buyers and sellers to use on its main sales platform, but it's by no means the only way to conduct an eBay transaction. Sellers can also choose to use the services of Skrill and ProPay (see Resources), which are similar to PayPal. They can arrange for payment to be made on delivery, or a seller can accept debit and credit cards with an Internet merchant account. As mentioned previously, eBay Motors users are encouraged to use Escrow, but they can also arrange to use checks, money orders or bank wire transfers in some cases, as can those selling real estate, business capital and equipment or adult-oriented products.
Caution
EBay prohibits checks, money orders and bank wire transfers for most eBay purchases. Further, eBay warns that eBay users aren't allowed to make, solicit or accept offers for eBay-listed items outside of the eBay platform. However, buyers may finalize a deal outside of eBay when the seller is willing to end an auction early to sell to the high bidder at the current listed price, no more and no less. On another note, it's important to make a distinction between the eBay Motors site and vehicles listed on the eBay Classifieds site -- two different sites. On eBay Classifieds, deal only privately with buyers and sellers. On eBay Motors, go through eBay and Escrow.
Canceling
If you've finalized a transaction with a buyer and for some reason can't fulfill the order, such as if you lost or broke the item or made a mistake in the listing, eBay allows you to cancel the transaction up to 45 days after you made the sale. This will open a case in eBay's Resolution Center, after which the buyer can respond within a given amount of time to either accept or refuse the cancellation. If the buyer accepts or doesn't respond at all, then eBay will credit you the final value fee (eBay's cut of the sale) for the item.