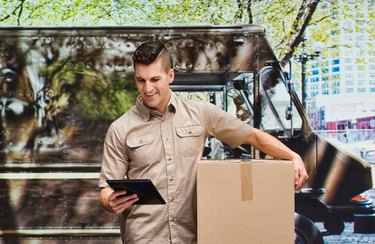 Although some people might only ever see the familiar UPS (United Parcel Service) drivers working their routes, this global company is like any other one that operates out of different facilities worldwide. They offer full-time management, warehouse, sales, marketing and other roles to those who qualify, and these individuals don't drive those big brown trucks to deliver packages. The company offers many full-time opportunities for employees who prefer to stay put in one location most of the time.
How Much Do UPS Supervisors Make?
Each UPS facility has its own staff with a supervisor who manages the daily operations and on-site workers. These employees have the same responsibilities as general managers, so the experts at the U.S. Bureau of Labor Statistics group them into the "Administrative Services and Facilities Managers" category. This shows a range of ​$45,760 to $127,140​, with an average salary of ​$99,290​ per year.
The UPS starting wage for these full-time managers likely falls somewhere within those parameters. A full-time UPS manager salary comes with benefits like health coverage, profit sharing, a pension plan, tuition reimbursement and an employee stock purchase plan. According to job board sources like Glassdoor, UPS managerial salaries tend to be about ​$98,302​ per year. They list the range as being between ​$25,878​ and ​$160,814​ per year.
As with other management positions, new UPS supervisors may receive salaries if they have more experience. Many can work their way up the ladder, starting as drivers and delivery input takers. Full-time facility supervisors usually work 40 hours a week, managing employees and interacting with customers as needed. They also hire, discipline and fire employees, ensure conformance to workplace regulations, deal with major customers and work with package handlers. Other responsibilities may include opening and closing the UPS stores, dealing with vendors and reporting sales and delivery transaction data to upper management.
How to Land a Job With UPS
The best way to apply for a full-time UPS management position is to go to the company website. It has a "job search" function that you can use to search jobs by state and title. If you find one of interest, set up a profile and then fill out the application carefully. You don't need to be a current UPS employee for this role; they consider applicants with solid management experience and excellent leadership skills.
Communication skills are essential for managers because they have to communicate effectively with staff members and customers every day. They have to make their expectations clear but also be good listeners. This kind of back-and-forth develops trust and respect. Collaborating and delegating are also crucial since these strategies lead to great teamwork, independence and strategies for solving problems and resolving conflicts. Try to include these qualities when writing your resume and filling out your application.
Many Post-Retired Workers Choose UPS Management
With the ups and downs of the modern economy, many retirees are returning to the workforce and taking jobs at companies like UPS in managerial roles. Others wonder if they can still collect their Social Security benefits after accepting a job like a full-time management position. The answer to this is yes, although there are penalties for taking Social Security before the full retirement age. Those born after ​1960​ reach this at ​67​; people born in ​1955​ reach it at age ​66 years and two months​. People who wait until they turn ​70​ to collect will receive higher monthly benefits.
Taxes are another important consideration for retirees returning to the workforce. Someone who decides to work and collect Social Security will find out that their combined income totals their adjusted gross income, nontaxable interest and 50 percent of their yearly Social Security benefits, but this can vary depending on the person's state. Returning to work is a significant decision, but it may be well worth it if the company offers good pay and benefits, as UPS is often known to do. If you have questions about your situation regarding returning to work after retirement, the experts at the IRS provide a list of answers to commonly asked questions.