If you've ever closed the deal on a house, you know the paperwork can be grueling. Conscientious consumers usually pay close attention to documents they're signing. This is especially true of a real estate closing statement, which outlines all of the costs associated with the deal. The money you paid down, the numerous fees you'll owe and any amounts due to you should all be outlined on this form. But even though someone goes over the statement with you line by line, it helps to go into the closing knowing what to expect.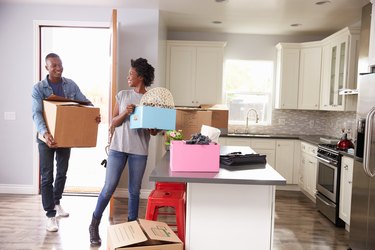 The Buyer
Chances are the first time you see a real estate closing statement will be as a home buyer. The debit section highlights the items that are part of the total you'll owe at closing, including the amount due for closing and title costs, which are generally halved with the seller. If you're moving in halfway through the mortgage period — mid-month, for instance — your homeowner's insurance, mortgage interest and other fees will be prorated to cover the period of time you'll be in possession of the house.
The good news is, you'll have credits on this statement that will reduce the amount of the check you'll need to write before you leave the closing. If you put earnest money down to hold the house, you'll be credited for this, as well as for money the seller has agreed to pay to take care of repairs on the home.
The Seller
The buyer isn't the only one who will see a closing statement when the sale is finalized. If you're the seller, though, the debit section includes all of the items you're responsible for paying, including any past due taxes and second mortgages on the home. If you're paying the buyer for repairs or upgrades needed on the home they're purchasing, these will be reflected in the debit section as well.
Insurance and Tax Refunds
At the time of closing, sellers may find that they'll get money back that was paid for insurance and property taxes in advance. If you've paid insurance on your home through the end of June, for example, yet closing is taking place in mid-May, you'll get a refund for the amount of time remaining. You also may see on the closing statement adjustments for any costs you've agreed to share with the buyer.
The closing process may seem complicated, but it often boils down to signing a series of papers that protect the seller, the buyer, the real estate agents and the financial institution that provides the loans. By understanding what to expect in advance, you'll be prepared to sign the real estate closing statement, knowing what each line item means.