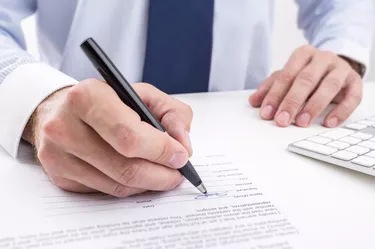 You sign more than a loan application when applying for a mortgage. The Uniform Residential Loan Application starts the mortgage approval process, but you also review and sign supplemental disclosures that show the total costs of financing a home. You sign a Good Faith Estimate and a Truth-in-Lending disclosure, which show prepaid finance charges you cover before or at closing. These fees are designated as "PFC" on the Good Faith Estimate. Section 7 of the mortgage application also requires the amount of prepaid finance charges, although the acronym "PFC" doesn't appear on the application.
Identifying Prepaid Finance Charges
Lenders must disclose the total cost of getting and paying off a mortgage. You pay settlement costs, also known as closing costs, when the loan is made, and you pay principal and interest until the loan is fully repaid. Lenders express the total cost of obtaining a mortgage as a yearly rate. This annual percentage rate, or APR, is usually higher than your loan's interest rate because it includes lender and third-party fees you pay to get the loan, including charges designated "PFC."
Points and Other PFCs
Charges you pay separately to the lender or a third-party, or "PFC" items, usually include loan origination fees and "points." Lenders may charge an origination fee as a percentage of the loan amount, such as 1 percent, or a flat fee. Points describe total lender fees, including loan origination, and one point equals 1 percent of the loan amount. Other charges commonly marked "PFC" include government mortgage insurance and private mortgage insurance, or PMI, inspection fees and credit report fees.
Direct Reference to PFCs
Lenders provide a Good Faith Estimate within 3 business days of your loan application. The estimate is an itemized list of your closing costs based on your specific loan amount, proposed interest rate and closing date. In addition to listing charges, it indicates how each fee will be paid via the final column entitled "PFC/F/POC." The lender also indicates whether you, the borrower, will pay the fee or the seller will cover the fee on your behalf.
PFC Indirectly Reflected
The term "PFC" isn't directly found on a Truth-in-Lending disclosure, which shows your loan's terms and costs. The disclosure shows your APR, interest paid over the life of the loan, your original loan amount, and the total amount you will have paid after making every scheduled payment. The amount found on the "Total of Payments" portion of the Truth-in-Lending statement includes PFC amounts. The APR also reflects PFC amounts, hence, a rate higher than your loan's note rate.
PFCs and Your Mortgage Application
Section 7 of the mortgage application, which is found on pages 3 and 4, is a miniature summary of your transaction costs. Among a few of the dollar amounts it requires are the purchase price or refinance amount, estimated prepaid items, estimated closing costs, PMI, discount points paid to lower your interest rate and any closing costs paid by the seller. This part of the mortgage application reflects PFC charges identified on your Good Faith Estimate.