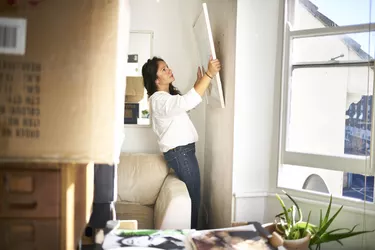 You receive underwriter approval for a home loan after you meet certain conditions, but you still have work to do before loan funds are disbursed and you become a homeowner. The approval stage of the underwriting process shows that you have a lender's approval to close, but it may include some lingering conditions. Closing on a mortgage entails signing a stack of official documents and preparing the transfer of money and title. Speak with your loan officer after receiving final underwriting approval to ensure you understand your responsibilities and time frames for closing.
Approval Stage of Underwriting Process
Your mortgage lender provides a letter of approval that states the agreed upon loan terms and any remaining paperwork or steps that must be completed before it wires funds for your home purchase. Even if a letter states that you are "clear to close," it doesn't mean your work is completely done. It simply means that the bulk of conditions needed to determine creditworthiness and your capacity to repay the loan have passed an underwriter's review.
Reaching this stage of the underwriting process means that your lender has approved the home appraisal, your financial documents, title and escrow paperwork.
Working on Remaining Funding Conditions
The letter may have "prior-to-funding" conditions that the underwriter must receive and review before funding. A lender will not fund your loan until you satisfy these conditions, even if you sign all of the final loan documents. Common prior-to-funding conditions include homeowners insurance coverage, a flood insurance policy if required in your area, a final search for judgments or liens against all borrowers' on the loan, and a last-minute credit and employment check.
Your insurance agent can provide proof of coverage, while the title company conducts searches and your lender re-runs your credit and contacts your employer. Your lender may request information directly from you, such as detailed explanations of recent credit inquiries or bank transfers.
Signing Final Loan Documents
You must make an appointment to sign all of the lender's loan documents. This usually takes place at a title or escrow company in front of a notary public. The home seller, your real estate agent or attorney and the loan officer may or may not be present at the signing, which is often referred to as "closing" or "settlement."
In addition to reviewing and signing the lender's documents, which include a promissory note and a mortgage or deed-of-trust document, you approve a list of final closing costs, a form known as the "settlement statement" or "HUD-1." At closing, you and the seller may also sign the grant deed or another official document that officially transfers title from seller to buyer.
Wiring, Funding and Recording the Loan
The escrow or title company sends your signed loan documents back to the lender for review. Once the lender is satisfied with all loan paperwork and any prior-to-funding conditions, the lender is ready to fund the loan. Funding involves disbursing the loan money so the escrow and title company can begin to pay the seller and all third parties involved in the transaction.
At some point between closing and funding, you must also deposit or wire funds to escrow for any amount you owe based on the HUD-1. This usually includes your down payment and closing costs. Once your loan has funded, often the same day or next day, the county land records office records the title transfer documents and the home is officially yours.