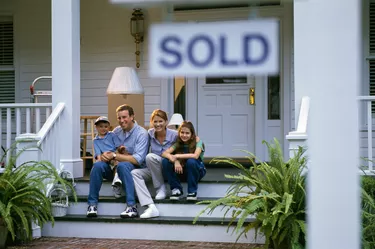 Part of the eagerness to close on the sale of your home has to do with getting paid. Sellers receive their money, or sale proceeds, shortly after a property closing. It usually takes a business day or two for the escrow holder to generate a check or wire the funds. However, the exact turn time may depend on the escrow company and your method of receipt. The exact amount of your proceeds appears on your HUD-1 settlement statement, a form mandated by the Department of Housing and Urban Development.
Several parties must be paid before you receive your sale proceeds. Third-party service providers, including the escrow company, title company, attorneys and real estate brokers, must get their fees. Closings costs must also be attended to, if applicable.
Your previous mortgage and any other liens must also be paid off. Closings are known as "settlements" because you, via the escrow holder's disbursements, settle up with everyone who assisted you in the sale of your home.
The team at Homelight notes that if you close on a Friday, you may wait a bit longer to get your funds due to the weekend. If you close on a Monday through a Thursday, it's likely you'll receive the money that day or the next.
Wiring Proceeds of the Sale
Before your property closing, the escrow holder will ask how you want to receive your sale proceeds. If you choose to have the funds wired to your bank account, you must first provide written wire instructions. You should be able to receive help with this process from your bank or lender.
Escrow holders can also wire funds to your money market and stock accounts. Although your escrow holder likely will wire the proceeds within two days of closing, your bank may not credit your account with the funds until the day after it receives the wire. Keep this in mind you set up automatic withdrawlals or write checks off your soon-to-be-received proceeds to avoid any sort of overdraft.
If you ask for a check with the proceeds of your sale, you can either pick up the money in person or have it delivered. With your permission, the escrow holder may even allow your real estate broker to personally deliver your check.
You must provide escrow with a forwarding address before closing to receive your check by mail or overnight delivery. Be sure to give them the correct address to avoid any need for check cancellation and an avoidable delay in getting your money. Depending on the escrow company and how early in the day closing occurs, your check may be ready on the same day as closing. The financial institutions involved should be able to tell you ahead of time how long it will take to get your check so that you know what to expect.
Your escrow holder may hold your sale proceeds until a certain condition is met after closing. For example, some transactions allow sellers to cover the cost of home repairs after the property closing. Both the buyer and seller may instruct the escrow holder to pay for the repairs out of the sale proceeds. This is common for issues like septic systems, roofs or other repair needs that would have otherwise changed the buyer's mind on the sale of the home.
The escrow holder abides by disbursing funds to the parties after the work is completed to satisfaction. This can take quite awhile, depending on how quickly repair teams or contractors are able to attend to the job that has been requested.