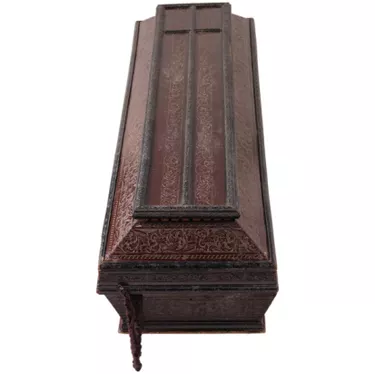 Death comes to everyone, but when it does, all would no doubt wish to look their best. Mortuary cosmetologists use various techniques to style the appearance of a deceased person so that the body can be viewed by relatives prior to the funeral. They endeavor to make the body resemble the living person after the embalmer has preserved the body to stop it from decaying. Mortuary cosmetologists style hair, apply makeup and dress the cadaver. Salary levels vary according to factors such as location.
Average Salary
For its national survey of employment conducted in May 2010, the Bureau of Labor Statistics classified mortuary cosmetologists alongside their colleagues working on the living -- as well as hairdressers and hairstylists – and calculated a mean annual wage for the profession. It concluded that an individual earned $26,510 per year, which translates into $12.74 an hour, $510 per week and $2,209 each month.
Salary by Industry
The bureau also detailed how salaries for cosmetologists and hair appearance workers varied across different sectors of the industry. It showed that those working in mortuaries – classed as death care services in the survey – were among the most well rewarded, with a mean yearly pay of $32,360. By way of contrast, individuals working in personal care services – salons, spas – received a mean of $26,760, those working in department stores earned $21,040, and those employed by nursing care facilities were paid a mean salary of $26,820.
Salary by Location
Pay comparison website SalaryExpert.com analyzed wage levels for mortuary cosmetologists based in certain large U.S. metropolises. It reported that, in 2011, salary levels were highest in New York City and Phoenix, averaging $45,151 and $38,983, respectively. Chicago and Dallas followed, with averages of $37,287 and $36,829, respectively. Los Angeles and Charlotte were among the cities with the lowest pay levels, averaging just $31,853 and $31,485, respectively.
Duties
After the body of the deceased has been embalmed – the process by which the blood is replaced by a preservative fluid – the mortuary cosmetologist works from a photograph or description given by a relative to titivate the appearance of the dead. The cosmetologist may cut and style hair, remove facial hair, apply make-up – both to give a more life-like appearance and to cover any cuts, grazes and bruises – and paint fingernails. She will also dress the corpse in clothes picked by the relatives and arrange the body in the casket. This is placed in an ante-room at the funeral home so that relatives and friends can view the deceased prior to burial or cremation.