If you own a home, chances are that at some point in your life you might have long-term guests. It might be an aging parent who needs care, or perhaps your grown children will be living with you. According to data collected in 2017 by the U.S. Census Bureau, 38.4 percent of young adults live with their parents after the age of 18. Sure, you can put your extra household members in a spare bedroom, but privacy becomes an issue. For many homeowners, one of the best solutions is to add a separate apartment to the house, especially if you're already thinking about adding a garage. Not only will you have extra space in case you ever have long-term visitors, you'll always have a comfortable, private place for friends and relatives who come to town. However, there are several factors you'll need to consider when determining what a garage with an upstairs apartment will cost you.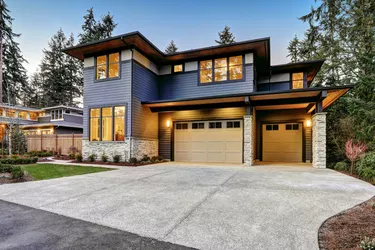 Construction Costs
You'll need to decide whether the garage will be attached or detached, the type of materials you want to use, and what size structure will work best. On average, in the United States, people spend approximately $26,000 to build a garage without an apartment included, according to 2018 information provided by HomeAdvisor.com.
If you want to build a suite of rooms above a garage, though, the costs can add up quickly. With the additional cost of insulation, electrical wiring, and plumbing if you choose to have a bathroom in the space, you can expect to pay between $170 and $200 per square foot, as noted in 2016 information provided on Angie's List.
Fees and Taxes
While the cost of building materials and labor is a large chunk of the expense when building a garage and apartment, you should also be aware of the other costs you'll accrue. Before work can even begin, you'll likely need to get a building permit, which costs between $487 and $1847 for most homeowners, according to 2018 information from HomeAdvisor.com. The addition must meet any zoning requirements for the area since many residential areas are zoned for only single-family homes.
The extra costs will continue after you've completed the addition. It will bump up the livable square footage of your house, for one thing, which will increase the amount of property tax you'll pay. If you collect rent for the space, even from a family member, you'll also have to claim the income on your taxes.
While a garage with livable space above it can come in handy, you'll have to determine if it's worth the expense.