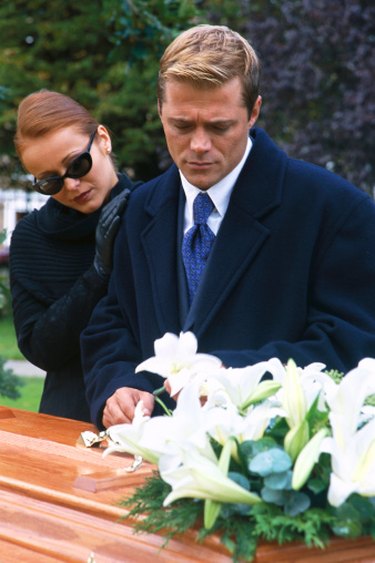 Most funerals carry a hefty price tag. Some funerals can cost more than $10,000. Many unprepared families face difficulty funding these sudden expenses. Know your options on covering these expenses without creating a disaster with your own personal finances.
Local Governments
Should you find yourself completely unprepared to fund a funeral, most city or state governments budget for the burial of the homeless, indigent or other needy residents who need assistance. Assistance varies widely, however. In some locations, governments offer no burial assistance. For instance, on May 31, 2010, the state of Kansas stopped paying to bury individuals without the means to bury themselves or for burial of a family member. As state budgets continue to struggle nationwide, this may become more common.
Medicare and Medicaid
Both Medicare (for retirees) and Medicaid (for low-income residents) offer programs and provisions for the assistance of individuals who qualify. These benefits help the deceased's family fund a burial for their loved one.
Unclaimed Bodies
Sometimes counties, even those not responsible for helping the poor with burial expenses, may be responsible for the burial or cremation of unclaimed bodies. This is the case in Sedgewick County, Kansas, where Bob Lamkey, the county's Public Safety Director, reported 18 unclaimed bodies in 2008 and nine in 2009.
Churches, Local Charities and Friends
Ask local churches or churches associated with the deceased or his family members if funds are available to assist with the cost of the funeral. Often, friends of the deceased or his family will conduct fundraisers or donate to help defray the final expenses of people who cannot afford to fund the funeral expenses. Some of your friends may have influence in local clubs or charities that would assist in the expenses.
Last Resort: Credit Card
Without cash or insurance proceeds to cover the cost of a funeral for your loved one, you may face funding the funeral by credit card. If you owe the funeral home, they often apply interest to an unpaid balance just as a credit card company or lender would. So compare the interest rate of your credit cards with what the funeral home charges for the unpaid balance and determine which is the best alternative -- owing the bill to the funeral parlor or owing it to a credit card. If you have a credit card with 0 percent or other low-rate terms, you may find it more beneficial to pay via credit card.