The loss of a loved one is often emotionally devastating. Helpguide.org reports that people losing someone they love often find themselves coping with a wide range of feelings, including anger, shock or even guilt. Having to bury the person without insurance only adds to the stress. Burial costs are expensive, ranging from $5,000 to $10,000 and up, according to the Funeral Consumer Guardian Society. Dealing emotionally with the loss of the loved one while raising money for burial requires a personal support system and some planning.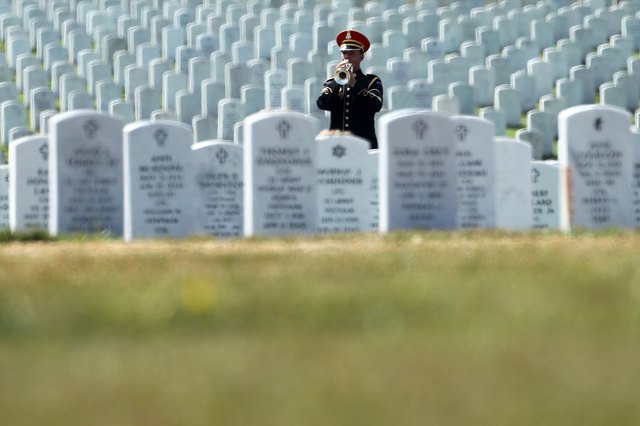 Step
Ask for emotional support from family or friends. The death and the financial issues are separate events, and you may need emotional support for both. Family members or friends can help you manage common symptoms of grief, such as sadness, shock and disbelief. Receiving help for your emotions can help you focus better on the burial costs.
Step
Confirm that the loved one really does not have life or burial insurance. It's worth making a phone call to the person's last employer to ask if the loved one had any benefits the family was not aware of. Also ask a long-time friend of the loved one if the deceased ever mentioned burial or life insurance policies. Check through papers, bills and other documents left behind by the deceased for clues.
Step
Select a funeral home to handle the arrangements; open an account for the cost of the burial that others can contribute to. Tell family members and friends of the deceased about the situation and ask them to donate what they can by contacting the funeral home directly.
Step
Contact the Department of Veterans Affairs if the deceased served in the military. The agency provides certain burial benefits for veterans that can help offset costs. Benefits include a grave site, headstone or marker and a burial flag.
Step
Call the Social Security Administration to report the death if the deceased was receiving benefits from the agency. Also ask about a special benefit Social Security sometimes pays when a person dies. In certain circumstances, as of 2011, the agency makes a one-time payment of $225 to the spouse or qualifying child of a Social Security recipient who dies. Social Security will not make the payment directly to a funeral home, but the family can use the payment to help with burial expenses. That isn't enough for all the expenses, but it is a start.
Step
Seek help from charitable organizations, such as the United Way or a local chapter of the National Urban League, if necessary. The organizations may offer referral to local churches willing to offer donations for a basic burial.
Step
Contact your county Social Services agency. Some counties will pay funeral expenses for people who do not have insurance or help from friends or family.