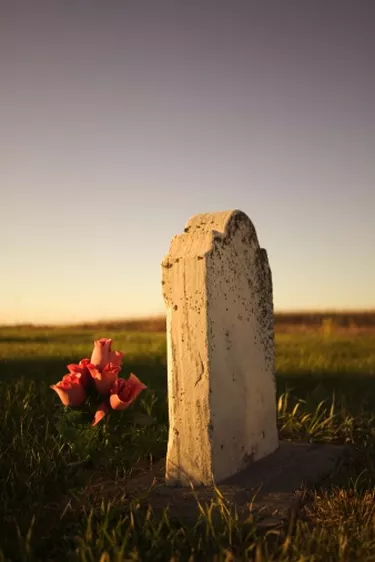 With the rising costs of funerals, it is good to know your options on financing a gravestone, headstone or marker. According to the Federal Trade Commission (FTC), you have rights under the Funeral Rule as you shop for and purchase a gravestone or any other funeral-related goods and services. You have the right to know how much each item costs and to choose whichever gravestone you want. Don't be pressured into buying something more expensive than you can afford. Be prepared to spend between $400 to $3,000 or more, depending on the size, shape and material.
Step 1
Call your insurance agent immediately if a life insurance policy was in force at the deceased's time of death. Your agent should go over eligibility, coverage amount and how long it will take to receive payout. Be sure to also call the deceased's employer, if he or she worked at the time of death. There may be another paycheck coming, a check for unused vacation or sick time, or a company-paid benefit such as an accidental death and dismemberment policy.
Step 2
Contact the Department of Veteran Affairs if your loved one was a veteran. He or she is entitled to a free burial and grave marker from the department's National Cemetery Association. This benefit may also extend to public health personnel and other civilians who provided military-related services.
Step 3
Reach out to the Social Security Administration to receive a one-time death benefit payment, if eligible. If you are the surviving spouse, you may receive a one-time payment of $255. An eligible child receives payout if there is no surviving spouse. Call or visit their website at SocialSecurity.gov for more details regarding eligibility.
Step 4
Ask your chosen funeral home if they offer a burial package that includes the price of a gravestone. You might find that purchasing the gravestone as a part of a package is less expensive. Also, the funeral home may offer in-house financing or refer you to a third-party finance company who deals specifically with funerals. You could also check with your local bank to see if you're able to establish a line of credit to finance the gravestone.
Step 5
Check with your state or county to find out if they offer burial assistance to low-income families. For example, the state of Wisconsin offers public burial assistance of up to $2,500 to qualifying families. You have to submit a state financial-aid application to determine eligibility.
Step 6
Solicit family for assistance, if needed. It is not uncommon for family to come together and help out after the death of a loved one, especially members of the deceased's immediate family. Let close relatives know that you need financial aid, and they might contribute or collect donations to fund the gravestone.
Tip
For more information about planning and financing a funeral, see your local chapter of the Funeral Consumers Alliance.