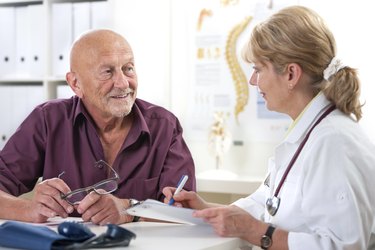 Prosthetics are devices needed to replace a body part or function. They include devices like pacemakers, artificial limbs and artificial eyes. In some cases, such as with a pacemaker, prosthetic devices save lives. In other cases, such as with artificial limbs, the devices don't save lives, but they can greatly improve the quality of life for those who use them. Unfortunately, prosthetics can be quite expensive; according to Blue Cross Blue Shield of Tennessee, in 2010 the average pacemaker costs $35,000 to $45,000.
Step 1
Apply for Medicaid. Medicaid pays for health care services for many people with low incomes, and it covers prosthetics in some cases when medically necessary. Not all people with low incomes qualify for Medicaid; in some states, only children, elderly people, disabled people and pregnant women can qualify. In some states, Medicaid only covers prosthetics for recipients under the age of 21. Check with the agency that administers Medicaid in your state to find out if you might qualify and if benefits include coverage for prosthetics.
Step 2
Contact the Social Security Administration at 800-772-1213 to find out if you qualify for Medicare (see "Resources"). Most people qualify for Medicare at the age of 65, but some can get it sooner, including people that qualify for Social Security disability benefits. Medicare pays 80 percent of the cost of most prosthetics when medically necessary (the amount as of 2010).
Step 3
Contact the Veterans Health Administration nearest you if you are a veteran. The Veterans Health Administration Prosthetic and Sensory Aids Service covers prosthetics for qualified veterans.
Step 4
Ask a social worker at a hospital or clinic where you receive services for information about other sources of funding for prosthetic devices. Most hospitals and clinics have social workers on staff, and they are usually familiar with a wide range of available resources. They can also help you fill out applications for assistance.
Tip
You will need proof of household income in order to apply for Medicaid and some other types of assistance.