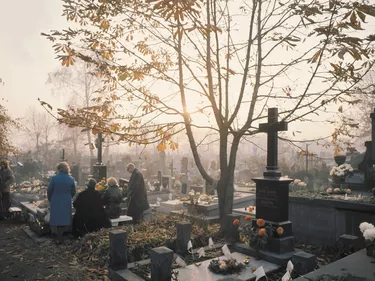 A traditional funeral costs about $6,000 on average, although some funerals can cost as much as $10,000, making a proper burial a major expense for the survivors of many people. During times when the economy grows slowly, more families find themselves in need of financial help to bury a loved one.
Anatomical Donor Programs
Some people choose to donate their bodies to science. Doing so helps further medical education and research by giving medical students the opportunity to study human anatomy. Once anatomical study has been completed, and unless a family indicates otherwise, the donor's remains are cremated. The ashes are then interred at a burial site the medical school sets aside for individuals who have gifted their bodies. A medical school will return cremains to the next of kin at the family's request. At the time of a person's death, the medical school accepting the anatomical gift assumes the cost of transporting the remains to the facility of study–usually within a 50-mile radius. The school is also responsible for paying the cost of cremation afterward.
Social Security Administration
A family member should notify Social Security as soon as possible after a loved one dies. In many cases, if you give the funeral director the deceased's Social Security number, he will inform Social Security of the person's death. Social Security makes a one-time payment of $255 to the surviving spouse if the couple was living together at the time of the deceased's death or if the spouse is receiving Social Security benefits based on the deceased's work record. In cases where there is no surviving spouse, Social Security makes the payment to a child under the age of 18 who is eligible to receive benefits based on the deceased parent's employment history.
U.S. Department of Veterans Affairs
Veterans discharged from active duty, service members who die while on active duty or inactive duty training, and spouses and dependent children of either veterans or active duty service members may qualify for VA burial and memorial benefits. Generally, eligibility is determined by providing a copy of the veteran's discharge document indicating the periods of active duty and type of discharge. Sometimes the Department of Veterans Affairs requests a copy of the deceased's death certificate and proof of a family member's relationship to the veteran. Veterans, their spouses and dependents may be eligible for burial in a VA national cemetery. There is no cost to the family. Burial includes the grave site, digging and closing the grave lot, liner and an inscribed headstone or marker. If a veteran is buried in another cemetery, VA will pay a plot allowance. VA will also pay a $300 burial and funeral allowance to veterans who were entitled to receive pension at the time of death. When a veteran's death is service-connected, VA will reimburse burial expenses up to $2,000.
County and State Government Programs
Most counties have programs that provide public funds to bury or cremate indigent residents whose families lack the resources to pay for their burial. In many states, public subsidies are available to families that qualify. State funds are often used to reimburse funeral homes and cemeteries for services they provide for indigent burials. Although eligibility requirements vary, usually the families of individuals who were enrolled in public assistance programs may apply to the deceased's county of residence for burial assistance. The county has the responsibility of determining eligibility but actually reimburses burial expenses--within specified limits--using money allocated by the state.