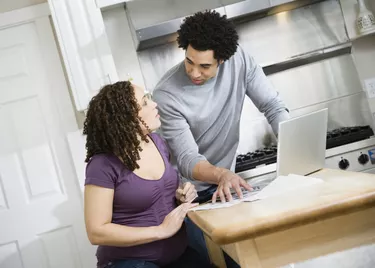 Many government, private and nonprofit programs offer help to people in financial difficulty. The assistance these programs provide takes many forms -- including food, counseling, housing and training -- but some organizations give cash directly to individuals and families. The free money may be targeted to specific needs, like paying rent to avoid eviction or funds for your education, or it may come with no strings attached. In addition to some well-known national programs, like food stamps, there are also many state and local programs that can help in times of need.
Government Programs
The U.S. government offers several programs that provide money to individuals. The Department of Agriculture's Supplemental Nutrition Assistance Program, commonly known as "food stamps," provides eligible families a benefits card, similar to a credit card, with which you can buy nutritional foods. The Department of Housing and Urban Development offers housing vouchers to low-income families to help pay monthly rent or mortgage costs. Workers who have lost their jobs can receive unemployment benefits through the Department of Labor's Unemployment Insurance program. Health and Human Services runs Temporary Assistance to Needy Families, which is also a source of cash benefits. The federal government's Benefit Finder website provides details on other assistance programs, including help with child care, disaster relief and medical expenses. Most federal assistance programs are managed by state agencies, some of which have additional programs at the state level.
Local Charities
Community-based charitable organizations -- including houses of worship, family service groups, local "lifeline" groups, private veterans aid groups and nonprofit health care services -- sometimes offer cash assistance to those in need. For example, 211 Texas, a government-sponsored information service, lists 24 organizations in Houston that provide emergency rent assistance to needy families and 19 offering assistance in paying overdue electricity bills. Your state, city or county Human Services department (or similarly named government office) usually maintains a list of local resources for people in need.
Scholarships and Financial Aid
You can apply for scholarships and grants to help pay for school. Funds are available at all levels of education, from preschool through post-graduate college education. Scholarships may be unrestricted or may provide aid for particular types of education like vocational training. CareerOneStop, a website sponsored by the U.S. Department of Labor, lists more than 7,000 scholarship and financial aid opportunities. Some scholarships are based on a student's financial need, while others are merit-based or are awarded according to select criteria such as ethnicity, disabilities or affiliation with particular groups. Education departments in federal and state governments are good sources of information on scholarships in your community.
Other Sources of Assistance
Although foundations largely make grants to organizations, some provide funds to individuals as well. You can explore funding opportunities with foundation directories from your local library or at online services like the Foundation Center. Online fundraising drives at sites like Fundly or GiveForward raise money for individuals in need.