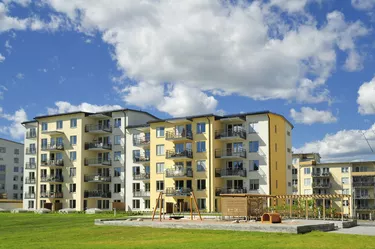 Supplemental Security Income, or SSI, provides monthly benefits for some people who cannot work due to a disability and for some elderly people who do not qualify for Social Security retirement benefits. People must have limited income and resources to qualify for SSI. Because they have low income, people on SSI may have difficulty purchasing or renting a home and paying utility bills. They may need housing assistance.
Assistance with Rent
The U.S. Department of Housing and Urban Development (HUD) offers a number of programs that assist SSI recipients with rent, including the Housing Choice Voucher Program (also called Section Eight) and public housing complexes offering reduced rent based on income. These programs often have lengthy waiting lists, so if you need assistance, apply as soon as possible. Visit the U.S. Department of Housing and Urban Development website to find rental assistance programs in your area.
Assistance for Home Owners
The U.S. Department of Housing and Urban Development offers free housing counseling for SSI recipients that want information or advice about buying a home or avoiding foreclosure on a home they own. You can locate a housing counseling agency near you by calling 800-569-4287.
Assistance with Utilities
Numerous programs offer SSI recipients assistance with utility bills. The Home Energy Assistance Program (HEAP) offers assistance with winter heating bills. Agencies like the Salvation Army and community action agencies offer assistance with gas and electric bills. Some telephone companies offer discounts to SSI recipients. Assistance is available for both home owners and renters. Your local United Way or welfare office should be able to tell you about local resources that can assist you.
Homemaking Services
Home health agencies provide assistance with homemaking for elderly and disabled SSI recipients that cannot care for their own homes. They assist with tasks like light cleaning, laundry, grocery shopping and cooking. Medicaid may pay for homemaking services in some cases and Area Agencies on Aging may help pay for homemaking services for elderly SSI recipients.
Supportive Living
Supportive living services help SSI recipients with disabilities live as independently as possible in apartments or other community settings. Services include things like help with budgeting, help paying bills and managing money, help with grocery shopping and assistance with using public transportation. Supportive services may also include assistance applying for benefits like Section Eight or other rental assistance programs and programs that help with utility bills.