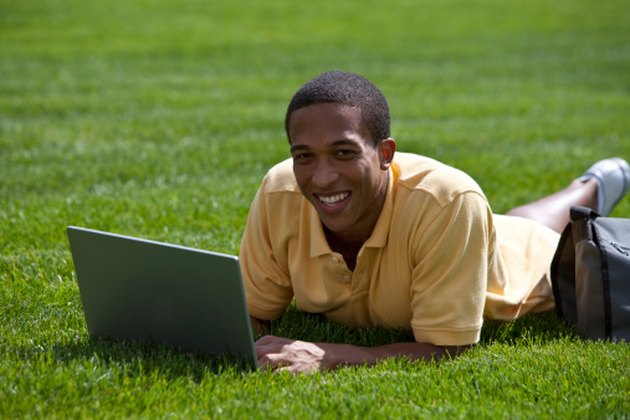 The cost of education continues to rise, and some families may not qualify for financial aid because of their income level, even if they cannot afford the cost of sending their children to college. Merit scholarships exist to provide financial aid to promising students who have performed well in school, regardless of whether they meet any specific financial criteria.
Definition
A merit scholarship is a type of financial aid that does not have to be paid back and helps individuals pay for the cost of their college education. Merit scholarships are awarded based on a high level of achievement in athletics, academics or the arts, as well as some special interests.
National Merit Scholars
The National Merit Scholarship Corporation, or NMSC, is a nonprofit entity that grants merit-based scholarships. Many other entities grant merit scholarships in addition to the NMSC although national merit scholars receive a high degree of respect because of the highly competitive nature of the awards. National merit scholars are chosen from over 1.5 million entrants, and after several rounds of qualification, only 8,400 are chosen for the final awards. Some notable national merit scholars are Bill Gates, Jeff Bezos, the CEO of Amazon.com, and Ben S. Bernanke, the Chairman of the Federal Reserve. NMSC scholarship awards are funded entirely by private funds with no government assistance. The organization offers scholarships sponsored by colleges, corporations and awards from NMSC directly.
Additional Merit Scholarships
Many other entities aside from NMSC offer scholarships that reward students for their achievements. Many colleges, companies and organizations sponsor merit scholarships. Some are offered as an investment in the future of a community's leadership through its youth. Companies may offer scholarships to recruit new employees or retain current ones. Colleges offer merit scholarships to add diversity as well as talent to their body of students. Colleges and universities may also offer scholarships for underrepresented majors, such as engineering or science for women and minorities. Organizations may offer merit scholarships to further their cause or promote their field of business, and private foundations may offer aid to carry on the mission of a deceased individual.
Increasing the Odds
Locating merit scholarship opportunities may take some work, but online resources can make the process easier. FinAid.org provides in-depth information on how to search, prepare and apply for merit scholarships and maintains a database of scholarship opportunities to apply for. Competition for merit scholarships can be intense. FinAid.org recommends starting to search early for scholarship opportunities, looking for local awards, applying for less competitive scholarships and reducing the competition by applying as a junior or senior in college since most students apply when they are freshmen.