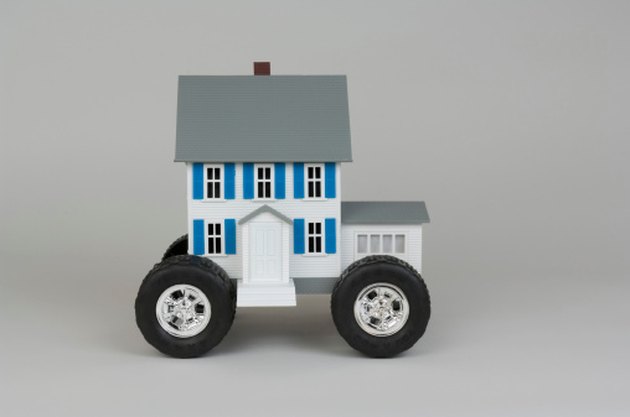 Whether you've been in your home for a short time or a lifetime, relocating to another state is a major endeavor logistically, emotionally and, perhaps most of all, financially. The cost of your move depends on many factors. You can research most of them yourself to determine an accurate estimate of how much you'll need both for the move itself and for the adjustment period you'll experience as you settle in.
Movers
Hiring a moving company to transport your belongings can cost anywhere from a couple thousand dollars to many thousands, depending on how far you're moving and how many possessions you're taking. Doing some or all of the work yourself saves a substantial amount of money. You'll save the most by renting a truck and moving yourself. A good compromise, however, is to rent a portable storage cube, load it yourself, and have the storage company transport the cube to your new location. The company will take it away after you've unloaded it. Whatever method you choose, contract several service providers to compare prices and services. Ask them to be specific about what is and is not included -- insurance, gas and packing material, for example.
Housing
If you plan immediately to purchase a home in your new location, you'll need 3.5 to 20 percent down, depending on your mortgage, plus an additional 6 percent of the purchase price, on average, for closing costs. Alternately, plan to pay three months' worth of rent up front; the first month's rent, the last month's rent plus a security deposit equal to one month's rent. You may be subject to a fee if you break your current lease to relocate. Depending on the terms of your lease, you could even be responsible for making payments until the landlord finds another tenant. If you're hoping to sell your current home before you relocate, list it early and have a contingency plan in case you have to move before the home sells and before you have the proceeds of the sale.
Employment
A single individual who is relocating for a better job opportunity might go directly from his current job to the new one with no unpaid break in between. Dual-earning families, however, could take quite a hit if one earner has to find a new job after relocating. Research the job market in your new location to get a sense of how long the job seeker might take to find something. Include the anticipated lost wages in the cost of relocating.
Cost of Living
A move to an area where the cost of living is higher can cause sticker shock once you get down to the business of living your life in your new location. Chances are, if the cost of living is higher, so is your new salary. In that case, things might balance out quickly. Otherwise, counting the additional money you'll spend on higher living expenses as part of your relocation costs is prudent.