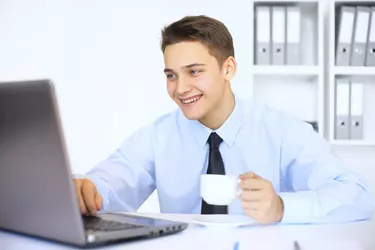 According to the National Association of Unclaimed Property Administrators, treasury departments around the country currently safeguard more than $41.7 billion worth of forgotten financial assets. That money represents everything from dormant bank accounts to stock certificates waiting to be reunited with their rightful owners. If you have lost track of a stock or mutual fund account, or if you are trying to source accounts after the death of a loved one, you might be able to reclaim those lost assets with a simple online search.
Step 1
Look for copies of any old brokerage statements, mutual fund statements and other financial statements. Even if the brokerage firm has since gone out of business, those statements can give you a good starting point.
Step 2
Research the current owners of any now-defunct brokerage firms where you once held stocks and bonds. If a new company bought the assets of that old firm, the acquiring company may still have a record of your account. You can find this information in the financial press and often online as well.
Step 3
Go to the website maintained by your state's division of unclaimed property. Each state has a department that keeps track of unclaimed financial assets. If you do not have the information from your state, you can start your search at the National Association of Unclaimed Property Administrators website.
Step 4
Click your state on the map from the NCUPA website. This will connect you with the unclaimed property division for your state. Look for the search box, and then enter your last name and first name. Also, search under your maiden name if you held the stocks and bonds before you were married.
Step 5
Review the results of your search and follow the instructions on the site to reclaim your money. Keep copies of any backup paperwork you send to back up your claim for the lost stocks and bonds.