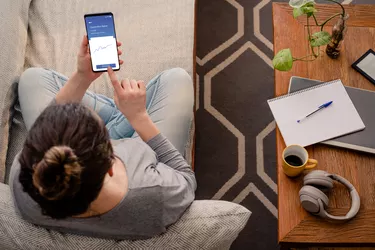 Long before electronic brokerages and online stock trading, shares of stock were issued on physical certificates printed on pieces of paper. Because of this, stock certificates that were printed decades ago are still valid – as long as the company still exists, that is. Learn how to do an old stock certificate lookup to find out how much, if anything, your old stock certificates are worth.
Gathering Info on Your Stock
You can begin your old stock certificates research for free. Keep in mind that the most important feature to look for when you happen upon an old stock certificate is any signs of canceling. It may be a barely readable hand stamp or imprint, but if it is there, your stock is worth nothing on the stock market (although it may be valuable to collectors).
Identify key pieces of information: the company name, the CUSIP number, the name of the person to whom the stock is registered and the location of incorporation. All this information should be readily available on the face of the certificate.
Research the Company Name
If you are lucky, your company will still be in business under the same name. If your company is a household name, such as General Electric or U.S. Steel, chances are that is still operating under the same name. Most other companies, however, have likely undergone numerous mergers or acquisitions.
Begin your old stock certificate lookup by doing an online ticker search. Type the name of your company into a search engine and see if it still exists and what its trading symbol is. You may also be able to find information about your company's fate by doing a simple web search for the name of your company and "corporate history."
If your company exists, simply calculate how much it is worth by multiplying the amount of shares you have by its current share price. Note, however, that you may still want to do some further research to determine whether there were any splits or reorganizations that would affect the amount of stock you hold.
Do Old CUSIP Number Lookup
A stock's CUSIP (Committee on Uniform Security Identification Procedures) number is somewhat like the ISBN number of a book. Each security has its own CUSIP and is assigned a new one whenever there is a reorganization, merger or acquisition. You can open an account at the CUSIP Global Services website to conduct an online search, but it is likely more cost effective to have a broker do it for you.
Most brokers can do an old CUSIP number lookup and find information on your stock if you hire them. They can then determine the value of your stock and help you decide what to do with it.
Inquire With Secretary of State
As a last resort for doing an old stock certificate lookup, you can ask the secretary of state where the company was incorporated about the status of the company. Conduct a quick web search for the state of the incorporation to find out the correct department to contact. Note that in some states the bureau is known as the division of corporations, the secretary of the commonwealth or some other variation.
Most secretaries of state websites feature an online entity search free. Others require a fee to conduct a manual search.
Speak With the Transfer Agent
Once you ascertain the current name of the company, get in touch with the transfer agent. You can usually find out who the transfer agent is by speaking with the company's investor relations department. The transfer agent will help you to assign the stock to your name. If you inherited the stock from a deceased relative, you will likely have to prove that the stock was bequeathed to you in a will. Be prepared to show the proper documentation.