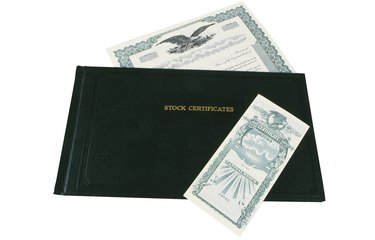 Knowing when to sell shares of any stock is never easy. However, many investment professionals always advise to never be greedy, or to never lose a profit. Knowing how to sell shares is equally important, so that when the time comes to sell shares, it can be done quickly, efficiently and correctly.
Possession
Personally held stock of GE (General Electric) are shares that an individual has in his immediate possession, as opposed to stock held at a brokerage firm. The shares will be registered in the owner's name and may consist of more than one certificate. Stock dividends, splits, and reinvested shares may account for numerous certificates.
Opening An Account
If the owner does not already have an established or active account at a brokerage firm or an online firm, a new account must first be set up before any sale can take place. Most firms will require the holder to present the certificate before a sale is executed, especially if the owner is a new client. If the securities are held in joint name (husband and wife) a joint account must be opened. Once the account is opened and approved, and the stock certificate and/or certificates are received in good legal form (all parties on the certificate must sign the back of the certificate or a stock power) the broker can enter the sale. The customer can request that the sale be entered at a limit price, as a day order, or as a good til cancel order. The funds will be available on T + 3, trade date plus 3 days following the sale. A check can then be issued or sent, less the broker's commission charge.
Transfer Agent
It is possible to sell shares of GE directly through the company's transfer agent. The Bank of New York Mellon can be reached by phone or email. All contact information is on GE's website under shareholder services. Stock certificates should sent via registered insured mail, and a detailed letter of instruction should be included and signed. Fractional, partial, and full shares can be sold through the transfer agent. All pertinent information must be included in the instructions, or a delay in the sale may occur. The transfer agent will sell upon receipt of all correct paperwork and the proceeds will be sent upon settlement date (again T + 3).