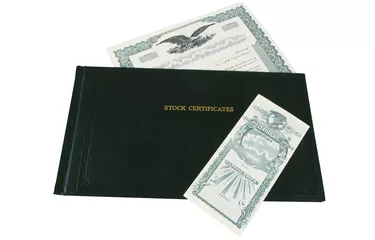 General Electric, or GE, is a publicly-traded industrial giant, so it's possible to buy, be issued and own stock in the company. To execute certain stock actions, such as selling personally held GE stocks, you will need to contact the GE transfer agent.
Personally Held Stock at GE
Personally held stock are shares that, instead of being held at a brokerage firm, are in your immediate possession. One way to have personally held stock is to possess a GE paper stock certificate that represents the share of the company that you own.
These paper certificates were once very common, and were often given as gifts or passed down in families. Some are even more valuable than the shares they represent, such as old Disney company shares with art by Disney artists and animators on them. However, paper stock certificates are an artifact of the past.
These days, stocks are not represented physically and are instead electronic records in brokers' computers. The writers at Forbes explain that the Depository Trust & Clearing Corporation (DTCC) is trying to eliminate paper stocks and convert them all to digital format. If you have a paper stock certificate for GE shares or otherwise want to sell your personally held GE stocks, you must contact the company's transfer agent.
The U.S. Securities and Exchange Commission's Investor.gov site explains that transfer agents are companies that work for the company that issued the stock or other securities. The transfer agents act to record and keep track of changes of ownership, distribute dividends and issue or cancel certificates. They are usually banks or trust companies, and they must be registered with the appropriate regulatory agency.
Previously, Wells Fargo Shareowner Services, commonly known as Shareowner Services, served as the GE transfer agent. Shareowner Services was sold to Equiniti Group in 2018, and the company has retained GE as a client. The GE site notes that sales of GE stock through EQ remain subject to fees of ​$10​ per transaction and ​$0.15​ per share.
Additional Considerations for Selling GE Stock
The GE site also notes that, if you plan to hold on to your GE stock, you need to avoid losing your shares to the state as unclaimed property. Every state in the U.S. requires shareholders to remain active on their shares, or else the shares will be considered lost and will be claimed by the state.
If you have personally held GE stock, you will need to contact GE's transfer agent Equiniti Trust Company to stay active as a shareowner. You must review and update your account details with EQ at least once every ​three years​. GE also has a Dividend Reinvestment Program (DRIP), and the same rule applies there. You must vote in the proxy each year to remain active.
If you have questions about what you should do to properly maintain or sell your personally held GE stocks, contact the transfer agent right away. Someone in their customer service department should be able to assist you. If you have a personal financial advisor, they may also be able to guide you as to how best to keep or sell your stocks. This is particularly important in a volatile economic climate, or in a time of drastic stock valuation changes, which has been the case for General Electric in the recent past.