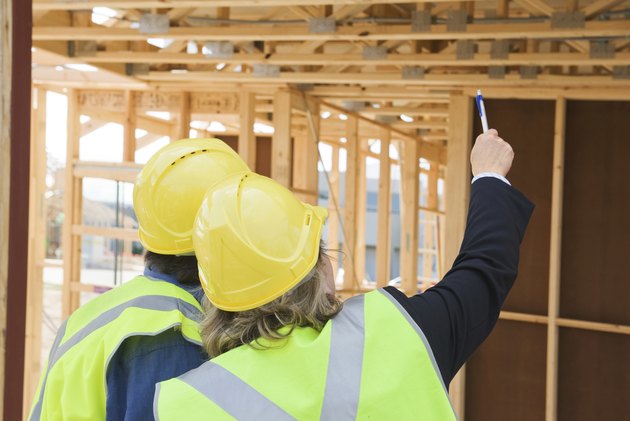 Because every home is different, home inspection fees vary. But the average cost of a home inspection nationwide is $432, with most homeowners spending between $375 and $489, reports HomeAdvisor. Home inspection fees can be more competitive in some regions and may include extra charges. When weighing the cost, it helps to ask about a home inspector's experience, special training and in what specialties he is certified.
What You Pay For
The job of a home inspector is to examine the physical condition of a property and report on the condition of a home's heating and air-conditioning systems, plumbing, electrical wiring, walls, ceilings and floors. A basic home inspection also includes reporting on the condition of the windows, doors, roof and foundation. Generally, home inspectors offer an initial quote based on the age and size of a home. Larger homes with more square feet of living space take longer to inspect, which can increase the inspection fee.
Extras That Increase Rates
While some home inspectors will include a basement and detached garage on the property in the base inspection rate, other inspectors charge extra to inspect these areas and other outbuildings on the property. The type of foundation a home has may factor into the price depending on how easy it is to do a visual inspection. Fees vary among inspectors, so make sure the price quote you receive includes all the areas you want inspected. Some home inspectors also charge mileage for traveling to a home located outside the usual service area.
Termite Inspection Cost
Many lenders require a termite inspection to look for signs of structural damage. In states that require a license to inspect for termites and other wood-destroying insects, you may have to pay another professional to complete that part of the inspection. The average cost to inspect for termites is $299, reports HomeAdvisor. A termite inspection fee is in addition to the basic home inspection fee whether it's included in an overall inspection fee or billed separately.
Separate Home Inspections
Since not all home inspectors are licensed to do every type of home inspection, you may need to hire other qualified professionals to conduct separate inspections. Depending on the types of inspections you need, separate inspection fees can significantly add to the total inspection cost. For example, If there is a question about the presence of radon gas that requires a separate inspection, the average cost to homeowners nationwide is $751, according to HomeAdvisor. (See Reference 6) Not all states regulate radon services, so ask if an inspector is certified to conduct the test.